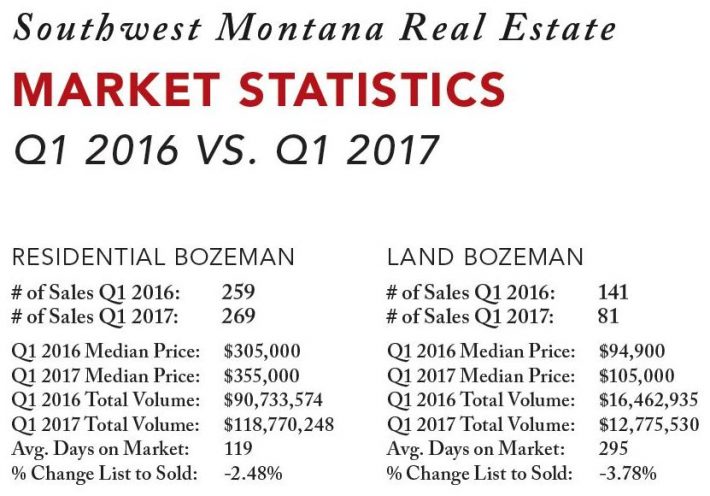 2017 Bozeman Price Trends Report – Daily Bozeman, Montana Real Estate Market Update
In February 2016, when Zillow CEO, Spencer Rascoff, was questioned by CBS "This Morning" co-host, Norah O'Donnell, "Are Zestimates accurate? And if they're off the mark, how far off?" Rascoff answered that they're "a good starting point" but that nationwide Zestimates have a "median error rate" of about 8%. Thus, your chances of obtaining accurate Bozeman Montana housing price trends, home prices, realty statistics, residential property values, and sales data for SW Montana properties are better on this and other pages of TaunyaFagan.com, than on Zillow Bozeman real estate or Trulia Bozeman real estate…Always go local or you may receive inaccurate Montana real estate information.
Housing Price Reports: Statistics, Market, Conditions – Bozeman Property: Bozeman Homes, Condos, Luxury Real Estate
---
Bozeman Real Estate Listings – Belgrade MT Real Estate Listings – Big Sky Real Estate Listings – Gallatin Gateway Montana Real Estate Listings – Livingston Montana Real Estate Listings – Manhattan MT Real Estate Listings – Three Forks Montana Real Estate Listings – Big Sky Real Estate Market Report
Sales of Bozeman houses, town homes, and condos have outstripped supply. The regional SW Montana real estate market remains busy but with low inventory on the mid to higher range of prices.
PREVIOUS YEAR'S BOZEMAN BOZEMAN MONTANA REAL ESTATE SALES HISTORY 2008 – 2016
In June 2016, Q1 and Q2 Bozeman homes and land inventory was declining and home sales continued increasing. The top price for Bozeman home sold in 2016 was $4,495,000.
In 2015, the Median Bozeman homes price was approximately $300,000. In early May 2015 we had a 75% increase in the number of Bozeman, Montana building permits issued as compared to May 2014. Bozeman's construction industry was very busy in 2015: there were over 250 single-family housing starts by May 2015. More than 60% of Montana's total building permits issued in year 2015 were issued in Gallatin County. In 2015, in Gallatin County, Montana, 1272 residential permits were granted. The highest price received for a Bozeman home in 2015 was $6,200,000.
Though inventory in late 2014 was lower than earlier in 2014, continued sales demand and fewer Bozeman, Montana homes listed for sale contributed to a relatively long run of price increases until late Summer 2014, after which prices began stabilizing.
The inventory of Bozeman homes declined into October 2014, and supply and demand levels then showed signs of price stabilization for Bozeman luxury homes, residential dwellings, condos, and townhouses.
Prices for Bozeman homes for sale hit another all time high in August 2014.
Late 2013: The Bozeman, MT market had been cooling off a bit in late 2013 as more Bozeman homes were available and demand declined. We saw prices move lower as a result. This trend was expected to continue into 2014, especially if the index fell into the Buyer's zone. Recommendation was to watch for a persistent up-turn in Market Action to signal prices rising again.
In 2012, Bozeman home sales were booming, with the highest home prices in the Montana. The region was once again attracting investors, and those with a few extra dollars to spend on Bozeman Montana real estate from Montana's oil business.
The artsy counter-culture community of Bozeman was a draw to many out of state people searching for a second home. Bozeman real estate values were increasing, and the region's forecast was to inflate the most for any area of the state, averaging a 2.9% increase by the end of 2012.
In 2011, Housing Predictor's Montana rankings had four cities' home values trending upward: Great Falls at a 2.9% increase, followed by Missoula, poised to rise 2.4%, Bozeman home values rising 2.0%, and Billings at a 1.6% increase in home prices.
Pertaining to Montana real estate prices for 2010, this housing forecaster had Montana real estate prices dropping from 2.5% to 3.6% across the four, aforementioned Montana cities.
Based on US housing data received during 2009, Housing Predictor published a top 25 US Housing Market ranking. Five Montana cities placed in the top 25 for 2009: Bozeman 14th, Billings 18th, Livingston 20th, Great Falls 22nd, and Missoula 25th.
In 2008, Housing Predictor Montana Rankings had five Montana cities in the US top 25 and two within the top 10 (you may recall that in January 2009, Billings ranked 3rd and Bozeman ranked 9th, placing both cities in the top 10 for US home values appreciation in 2009).
Taunya 406.579.9683, for all your Bozeman home needs!
Find Bozeman Resources, like Chambers, Schools, Recreation, Government Agencies, Culture, Transportation, Media
All information contained herein is derived from sources deemed reliable, however, information is not guaranteed by Christies, Managing Broker, Taunya Fagan or other Agents or Sellers. Offering is subject to error, omissions, prior sales, price change or withdrawal without notice and approval of purchase by Seller. We urge independent verification of each and every item submitted, to the satisfaction of any prospective purchaser. Equal Housing Opportunity.