Start of Q4 2023 Bozeman Price

Trends ⇓

Report (

h

omes, condos, townhouses

)

– Market Update
Here's what houses cost in Bozeman – So what's my home worth? – What's the luxury market report say?
| | | |
| --- | --- | --- |
| Q/YEAR | IN CITY | OUT CITY |
| Q3 2023 | $719,000 | 1,050,000 |
| Q2 2023 | $680,000 | $900,000 |
| Q1 2022 | $635,000 | $899,000 |
| Q4 2022 | $597,500 | $942,500 |
| Q3 2022 | $667,500 | $899,900 |
| Q2 2022 | $699,950 | $950,000 |
Bozeman's 2023 Median Price Trend

⇑

(using mixed residential).
In Q2 2023, residential property median price was $738,500, contributing to why condos, townhomes, and houses are expensive. 
In Q2 2022, the median price for residential property (homes, condos and townhomes) in all Bozeman was $750,000.
In Q2 2021, the median price for residential property was $630,000.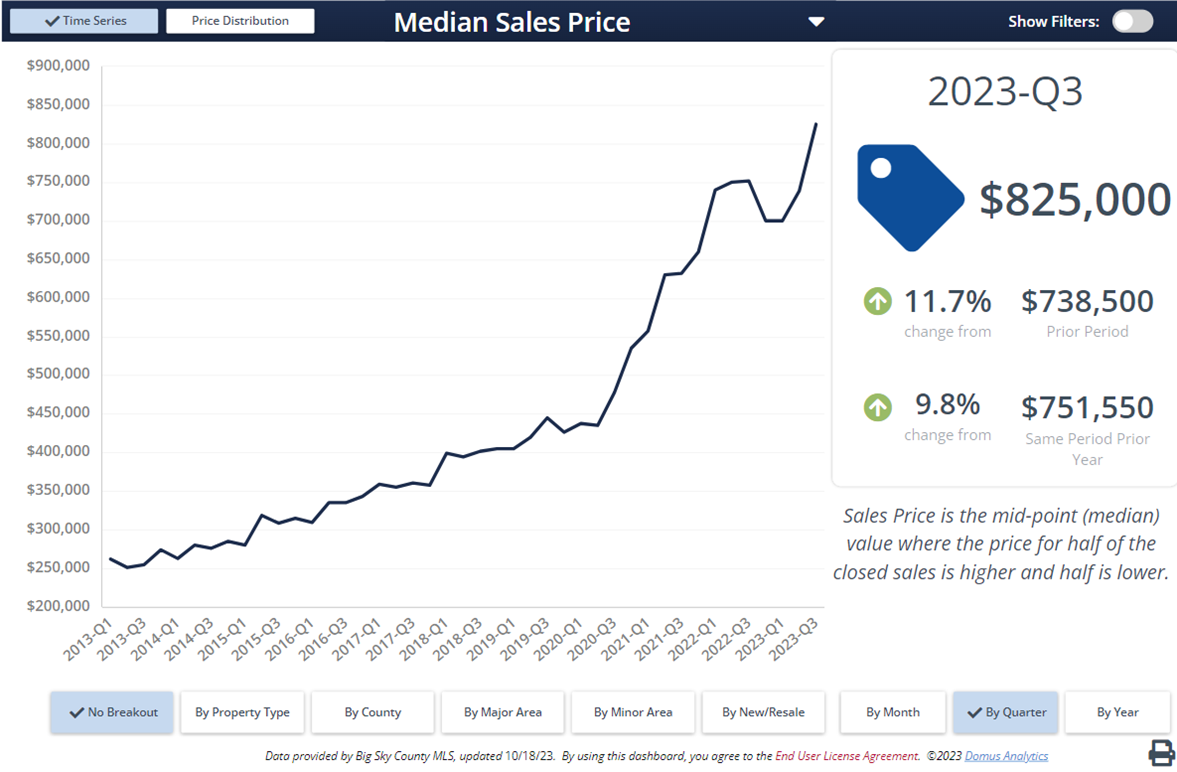 Chart 1: Q4 2021: Inside Bozeman city limits, the median residential sales price in Q4 2021 was $601,000.
In Q4 2022, it was up ⇑ $66,500 or ⇑ 11.1% to $667,500.
Outside Bozeman city limits, the median residential sales price in Q4 2021 was $835,000 and was up ⇑ $54,900, ⇑ 6.6%, to $889,900 in Q4 2022.
Snapshot (start of Covid)

: Bozeman's 2020 Average Price Trend

⇑
During Q4, 2020: the average sales price inside the city increased ⇑ $34,300, which was slightly more than the first 3 quarters of 2020 combined.
Q4, 2020: Outside Bozeman city limits the average sales price rose all year long, but from the end of Q3 2020 ($785,700) to the end of Q4 2020, average sales prices shot up, ⇑ $61,200 to $846,900, which was ⇑ 36.5% of the year's total increase ($167,400) in the last quarter.
From Q1 2020 to Q4 2020, average sales price outside Bozeman increased from $679,500 in January 2020 to $846,900 at year's end 2020, a ⇑ $167,400 increase during all of 2020, a much greater increase in price outside Bozeman's city limit than inside the city.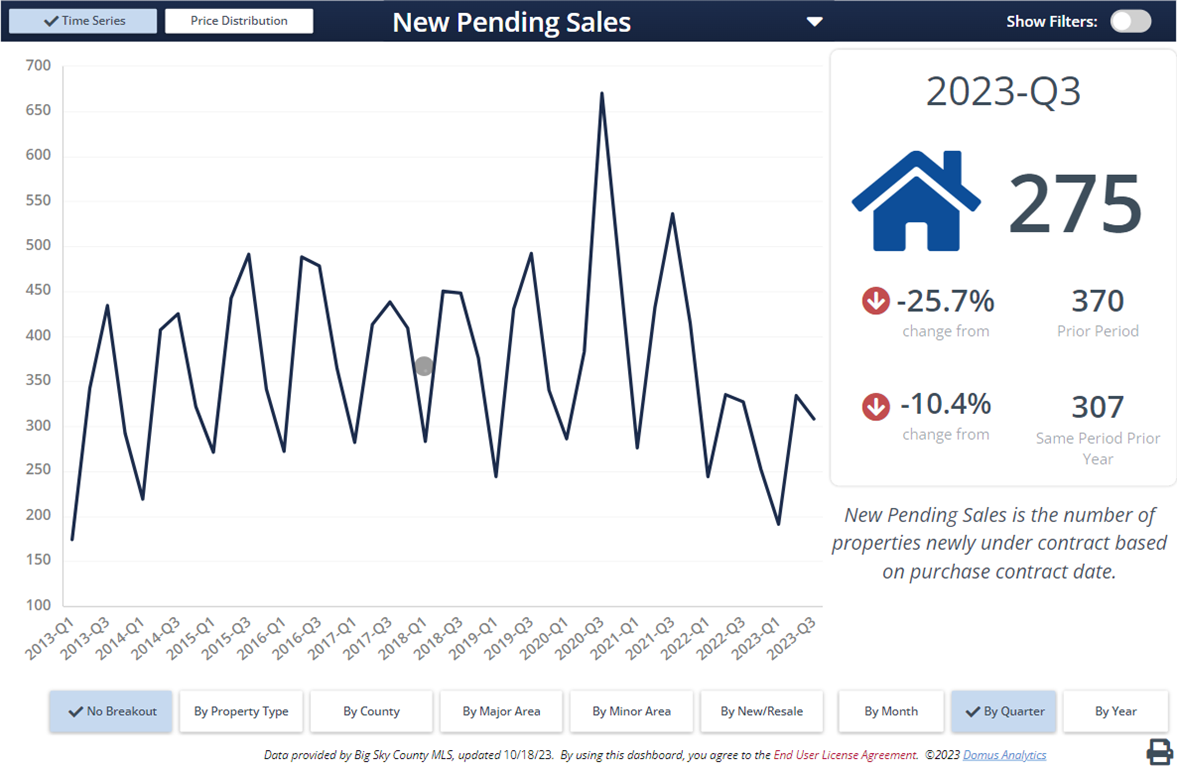 One-year Bozeman price trends: Comparing in-city residential average sales prices for January 2020 to January 2021, we found a ⇑ $20,000 increase, from $400,000, January 2020, to $420,000, January 2021.
Bozeman Housing Bubble Turns Into Housing Boom Due To Covid-19!
Due to Covid-19, Bozeman's real estate market exploded in 2020, as indicated by the increase in pending sales in Q2, 2020 (chart 2).
Market due to Coronavirus pandemic: much of the steady rise in real estate prices inside and outside city limits in 2020 was due to the coronavirus, which was not in the forecast; we have been in an unforeseen housing boom since mid-Q2 2020.
Chart 2: The housing demand inside Bozeman is flattening (note "pending sales") and residential inventory (chart 4) has begun climbing in Bozeman…and prices have responded.
Regardless of market conditions, Bozeman builders continue with a flurry of intra-city housing starts, condo communities, and commercial/retail projects but, nonetheless, demand continues to outpace supply.
Where will this Covid-19-driven Bozeman real estate boom–housing to commercial–take us? 
---
Prior to our Covid-driven boom, the question was, "When is Bozeman's housing bubble going to burst?"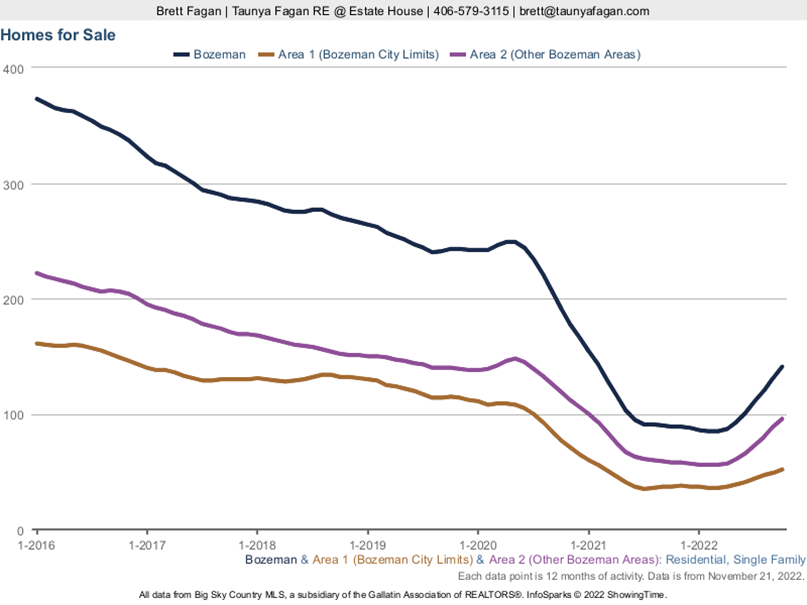 Three things to always consider when determining a housing bubble.
Is the home's

price justified?

Is the home's

price more than 3x's your income?

Has the home's

price increased 2x's or 3x's more than local rents have increased?
Bubbles are generally fueled by supply and demand; investor speculation; and buyer exuberance. In Bozeman, supply was moderate, demand was moderate to high, and exuberance was moderate to high.
Also, as bubbles go, interest rates, financial patterns, political instability, and other housing market influencers can change on a daily basis, effecting any housing market.
At the beginning of 2020 it was still unclear if a "real estate bubble" existed in Bozeman because real estate prices and property demands continued increasing, Bozeman's builders were vigorously responding to satisfy demand for new homes and commercial construction, and a Pacman-like appetite for Gallatin County land was increasing.
April 2020: Bozeman housing bubble became Bozeman housing boom!
Unlike cities like Boulder, Colorado, where the area of in-city growth is limited in all directions, and the price of land, if you can find it, is astronomical, Bozeman's area of growth is primarily to the northwest, outside the city, mostly toward Belgrade, MT but increasingly toward Bozeman's south, too.
The area, NW of Bozeman, outside city limits and in Gallatin County, contains large tracts of farmland, which will be consumed by Bozeman's residential housing boom.
In 2023, land prices continue increasing as the city moves both northwest and south through the County, annexing land.
The time of reasonable prices has ended. Gallatin County's land-use laws will change in positive and negative ways, depending on your position, but more than likely, land use trends will head toward Bend, Oregon's strict land-use laws, designed to protect green space and farmland.
---
Previous Year's Bozeman Price Trends and Sales Predictions 2008 – 2019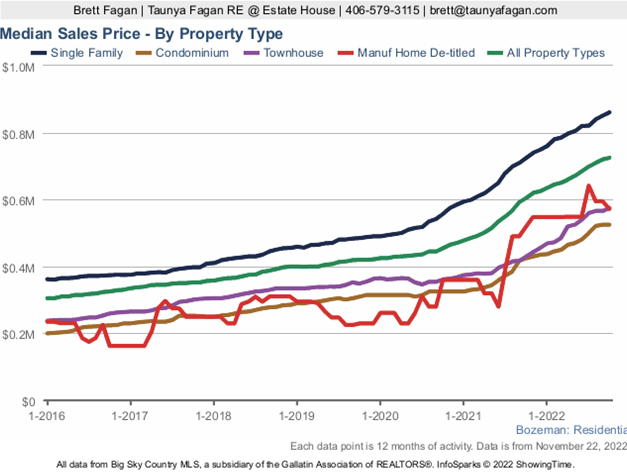 From 2022 to 2019, the SW Montana real estate market was robust but with low inventory in the mid-price range. Bozeman's luxury real estate sales were sluggish.
Looking back, from 2012 to 2019, prices for Bozeman homes increased over 60%. The Bozeman real estate market trend for single-family, residential homes moved consistently up, and increasing Bozeman home values followed this trend.
Comparing Bozeman residential median prices January 2019 to November 2019, we found a $31,000 increase in Bozeman's intracity median home price.
In 2019, outside Bozeman's city limits median single-family home prices were $517,000 in January, then rose about $39,000 to $556,000 in July 2019 (the year's high) and only dropped $500 by the end of November 2019.
The median sales price increase inside the city from January 2018 to January 2019 was 12% and 13% outside the city, but from January 2019 to June 2019, prices inside the city increased only $10,000 but continued rising for the remainder of 2019.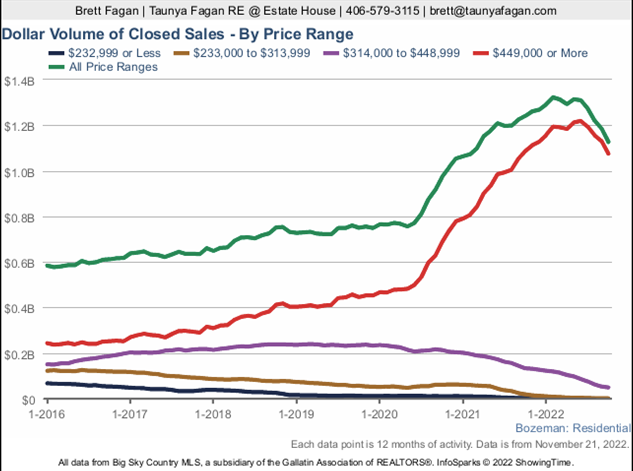 Similar to 2019's prediction, the 2018 Bozeman real estate forecast called for continued robust growth and construction, especially in the western portion of the City of Bozeman in and around the area of Bozeman's new high school.
At the beginning of Q4 2018, according to the city of Bozeman Housing Report, the Building Division had approved 1281 permits.
From late 2018 into early 2019, median home prices remained flat and prices for Bozeman homes in 2019 were predicted to rise around 4.5% over 2018 prices.
From early 2017 to early fall 2017, sales of mid-range ($300,000-$500,000) Bozeman residential homes, townhouses and condos outstripped the housing supply. In 2017, the city approved 1276 building permits.
Bozeman Real Estate Listings – Belgrade MT Real Estate Listings – Big Sky Real Estate Listings – Gallatin Gateway Montana Real Estate Listings – Livingston Montana Real Estate Listings – Manhattan MT Real Estate Listings – Three Forks Montana Real Estate Listings – Big Sky Real Estate Market Report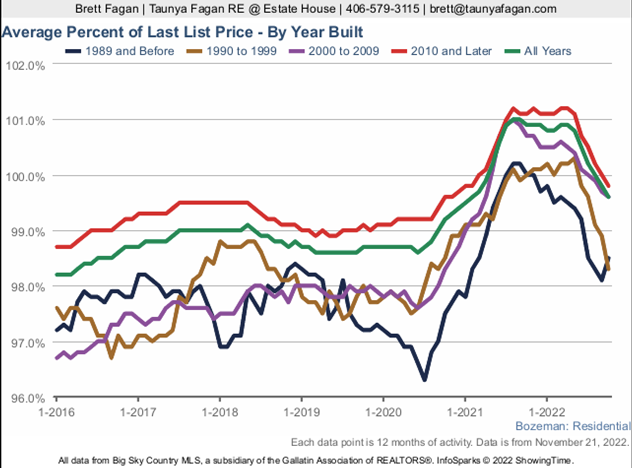 In June 2016, Q1 and Q2 Bozeman homes and land inventory was declining and home sales continued increasing.
The top price for a Bozeman home sold in 2016 was $4,495,000.
In 2015, the median Bozeman home price was approximately $300,000. In early May 2015 we had a 75% increase in the number of Bozeman, Montana building permits issued as compared to May 2014.
Bozeman's construction industry was very busy in 2015: there were over 250 single-family housing starts by May 2015. More than 60% of the total building permits issued in the state of Montana in 2015 were issued in Gallatin County, MT.
In 2015, in Gallatin County, Montana, 1272 residential permits were granted. The highest price received for a Bozeman home in 2015 was $6,200,000.
Though inventory in late 2014 was lower than earlier in 2014, continued sales demand and fewer Bozeman, Montana homes listed for sale contributed to a relatively long run of price increases until late Summer 2014, after which prices began stabilizing.
Prices for Bozeman homes hit another all time high in August 2014.
The inventory of Bozeman homes declined into October 2014. Then supply and demand levels indicated signs of price stabilization for luxury real estate, residential dwellings, condos, and townhouses.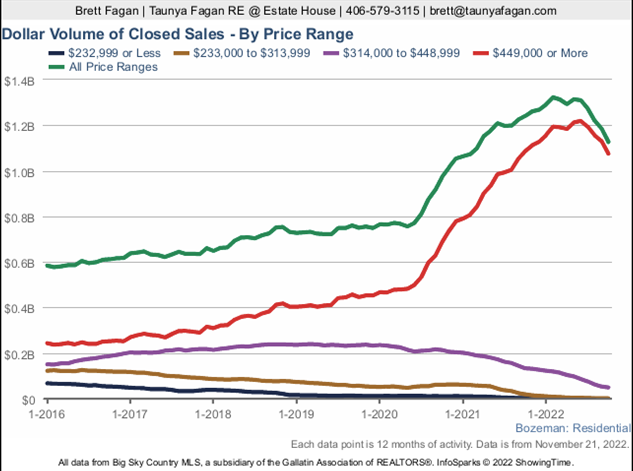 Late 2013: The Bozeman, MT market had been cooling off a bit in late 2013 as more Bozeman homes were available and demand declined. We saw prices move lower as a result.
This trend was expected to continue into 2014, especially if the index fell into the Buyer's zone. Recommendation was to watch for a persistent up-turn in market action to signal prices rising again.
In 2012, Bozeman home sales were booming, with the highest home prices in the Montana.
The region was once again attracting investors, and those with a few extra dollars to spend on Bozeman Montana real estate from Montana's oil business.
The artsy counter-culture community of Bozeman was a draw to many out of state people searching for a second home. Bozeman real estate values were increasing, and the region's forecast was to increase the most for any area of the state, averaging a 2.9% increase by the end of 2012.
In 2011, Housing Predictor's Montana rankings had four cities' home values trending upward: Great Falls at a 2.9% increase, followed by Missoula, poised to rise 2.4%, Bozeman home values rising 2.0%, and Billings at a 1.6% increase in home prices.
Pertaining to Montana real estate prices for 2010, this housing forecaster had Montana real estate prices dropping from 2.5% to 3.6% across the four, aforementioned Montana cities.
Based on US housing data received during 2009, Housing Predictor published a top 25 US Housing Market ranking. Five Montana cities placed in the top 25 for 2009: Bozeman 14th, Billings 18th, Livingston 20th, Great Falls 22nd, and Missoula 25th.
In 2008, Housing Predictor Montana Rankings had five Montana cities in the US top 25 and two within the top 10 (you may recall that in January 2009, Billings ranked 3rd and Bozeman ranked 9th, placing both cities in the top 10 for US home values appreciation in 2009).
BOZEMAN REAL ESTATE REPORTS