Manhattan, MT Real Estate – Manhattan, MT Homes For Sale
Median price for Manhattan, Montana homes is $697,000.
Manhattan, Montana real estate listings, includes Amsterdam and Churchill.
Q2 2023: Market Trends – Number Homes For Sale – Median Home Prices
MONTH/YEAR

⇑

SALES PRICE

⇑

HOMES FOR SALE
Q1 2023
$697,000
27
Q4 2022
$475,000
20
Q3 2022
$670,000
29
Q2 2022
$822,500
38
Q1 2022
$825,000
22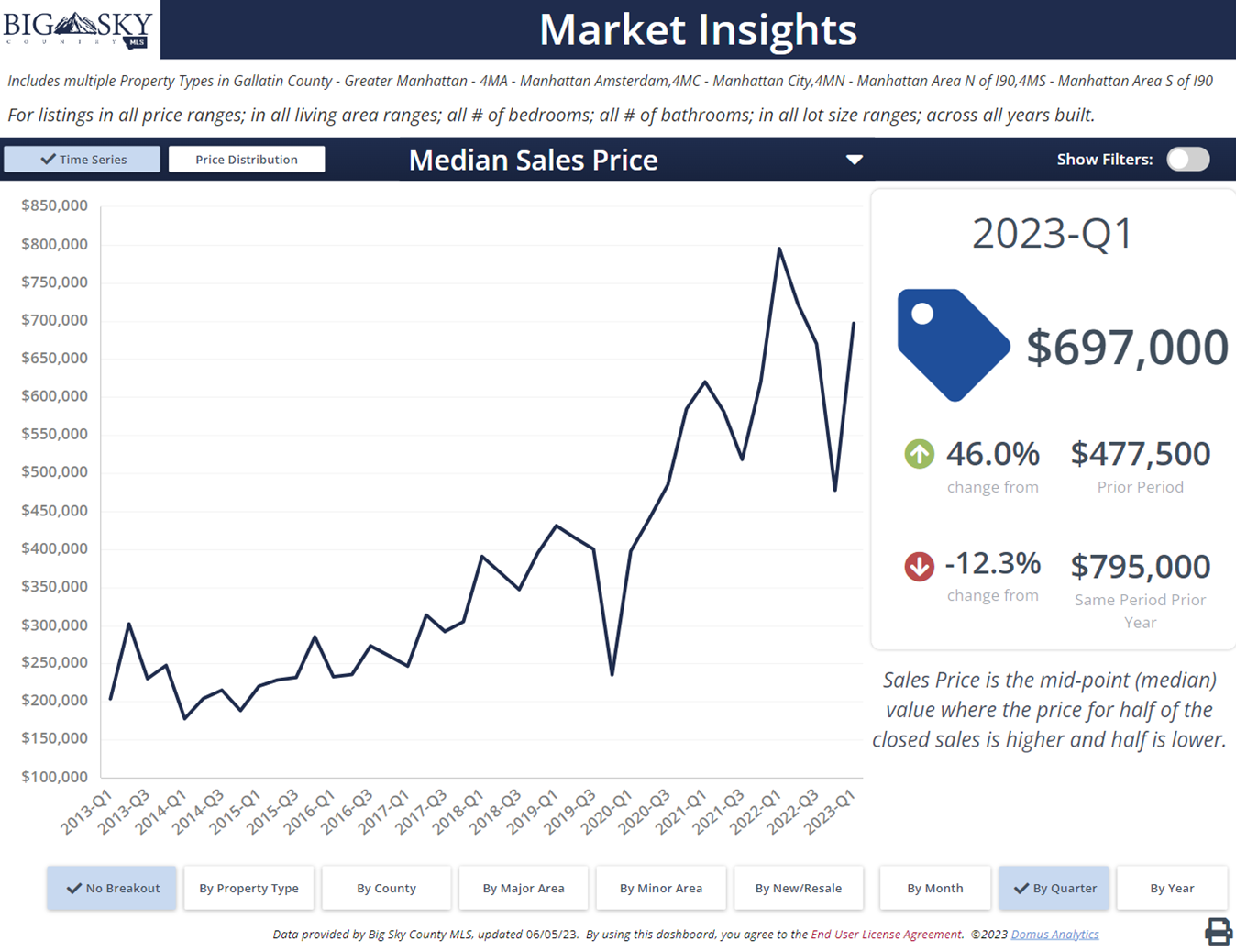 Manhattan, MT Residential (homes, condos, townhomes) Sales
Chart 1: Well into Q2 2023 finds Manhattan Montana residential (homes, condos, townhomes) prices significantly up from Q4 2022's price of $477,500 to the present price of $697,000 (homes, condos, townhomes).
After a low of $235,000 in Q4 2019, prices came close to hitting $800,000 in the first quarter of 2022.
Manhattan prices dropped throughout 2022, but kicked upward in Q1, 2023 to their present $697,000 near the end of Q2 2023.
Manhattan, MT Home Sales
In Q1 2022, Manhattan home prices were $825,000. Today the home price is $697,000, a drop of ⇓ $128,000 or a ⇓ 15.5% in the last year.
Starting in Q1 2020 (beginning of Covid) to Q1 2022, home prices in Manhattan increased from $450,000 to $825,000, which was a⇑ $375,000 or ⇑ 45.5% increase.
Chart 2:  In that same period, Bozeman home prices rose from $587,500 to $1,150,000, an increase of ⇑ $562,500 or ⇑ 48.9%!
Today, prices are rebounding in both area large price drops in the last year.
Beginning in January 2022, Manhattan, Montana's median home prices began climbing after a flat period at the end of 2021, but both Manhattan and Bozeman prices began falling in Q2 2022.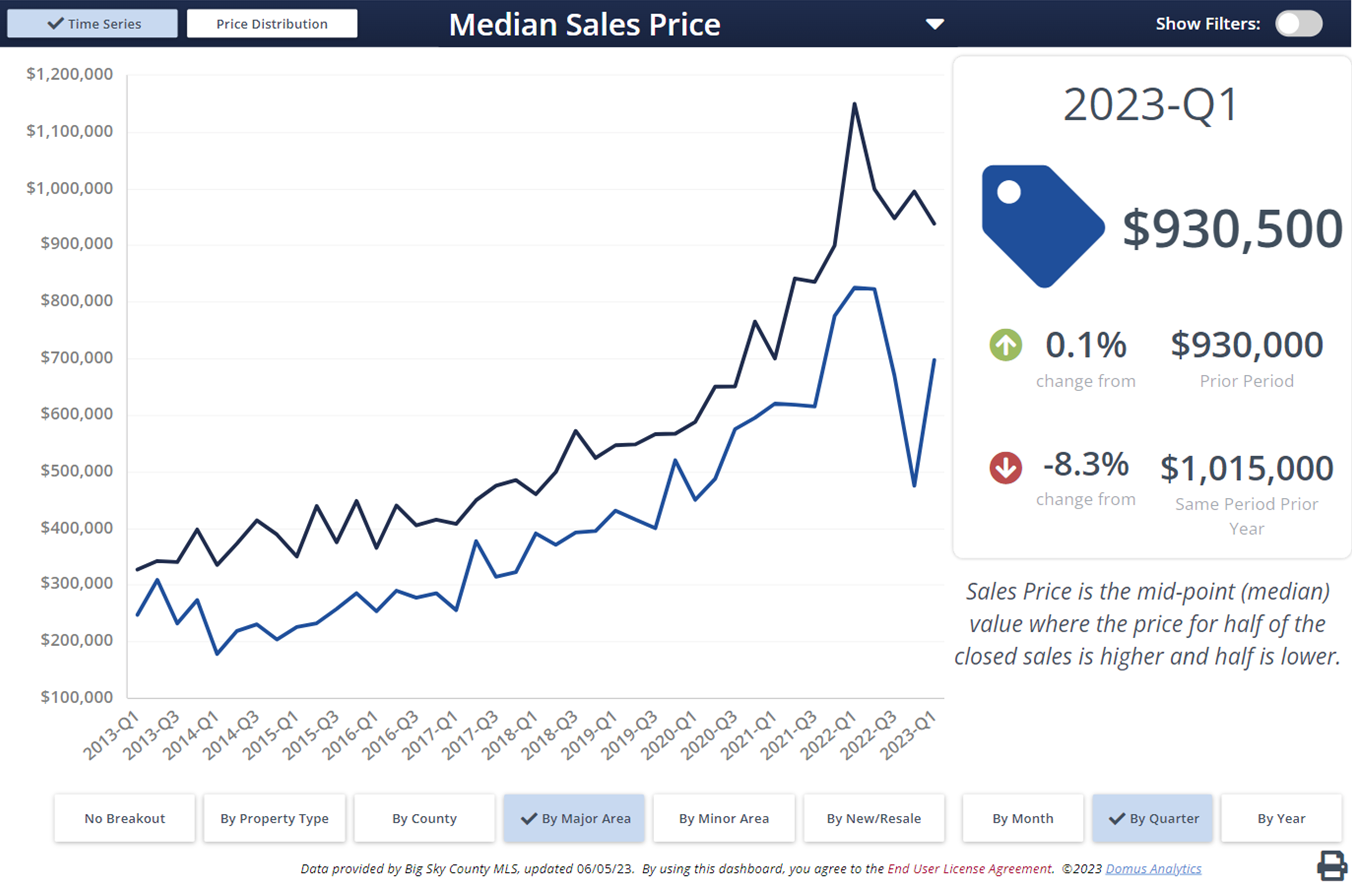 There are 23 homes for sale in Manhattan, MT in June 2023, compared to 106 homes for sale in Bozeman.
---
Manhattan has retained the small town, ranching aura that has characterized the American West for decades.
Interestingly, the town has had three names in its history: it was first named "Hamilton" in 1865.
Then, in 1883, Hamilton (not to be confused with present day Hamilton, MT)  was renamed "Moreland."
In 1890 it was renamed a third time to the present, "Manhattan," named for Manhattan, New York, from where it's three founders came.
The farming region around Manhattan, Montana helps make Montana the 2nd largest barley malt producer in the US.
Average sales price for Manhattan MT homes almost (⇑ 99%) doubled from January 2018 to January 2022, increasing from $389,000 to $775,000.