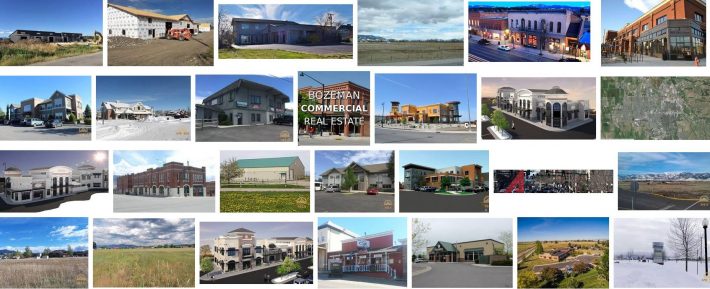 Taunya Fagan offers Bozeman commercial real estate clients expertise in SW Montana commercial real estate representation and contract negotiation, extensive local knowledge, and experience finding distinctive commercial properties for sale in Bozeman, MT.
Commercial land for lease, building lots, leases, commercial property leasing, industrial businesses, apartment complexes, hotels, motels, vacation rentals, commercial condos, duplexes, triplexes, fourplexes, technical business structures in Gallatin County and beyond.
You will benefit from Taunya's deep knowledge of Bozeman, Montana's commercial realty market, consummate negotiating skills, and tireless work ethic. Taunya Fagan will find you the right property; she listens, researches, and performs, giving you the advantage.
Construction of Bozeman Commercial Real Estate is strong, with a growing inventory of quality, attractive, affordable commercial properties, including land, lots, apartment complexes, motels, hotels, commercial condos, buildings, and new construction.
Commercial property is also available throughout Gallatin County and Park County, in Belgrade, Big Sky, Ennis, Manhattan, Livingston, and in other southwest, MT counties and cities.
Bozeman is home to Montana State University, but it has also become a mecca to vacationers, tech-industry workers, and retirees looking for peace, quiet, culture, community, and the great outdoors…. US News & World Report
Taunya Fagan offers the highest caliber marketing for your Montana commercial property, utilizing a sophisticated marketing system, blending television, internet, and print.
Taunya Fagan will do the necessary research to price your property appropriately; list it on the Multiple Listing Service (MLS) for southwest Montana, Gallatin County, including Amsterdam, Big Sky, Belgrade, Bozeman, Ennis, Gallatin Gateway, Livingston, Manhattan, Three Forks; advertise your listing on Montana Television and a wide-ranging collection of print publications, aggressively marketing your Bozeman property to the world…working for a speedy sale.
You will benefit from Taunya's strong network of industry contacts and her affiliation with Christie's International Real Estate and its tremendous network of Montana commercial and residential sellers and buyers.
Taunya Fagan has consistently been recognized as a top Realtor in Bozeman, Montana and all of SW Montana; she offers you extensive experience locating distinctive Bozeman, MT properties.
Taunya will be meticulous in all phases of your Bozeman commercial real estate buying and selling transaction. Taunya has the knowledge and expertise you need to help sell or buy SW Montana commercial property.
Over 200 Bozeman Commercial Listings For Sale