Bozeman Homes For Sale – Homes Cost 

$845,000

in Bozeman, Q1 2023 – New Homes
Days on Market ⇒ – Sales Prices

⇓

– Inventory ⇑ –

Bozeman Absorption Rates
---
Bozeman Housing Prices Cooling (Building Boom Continues)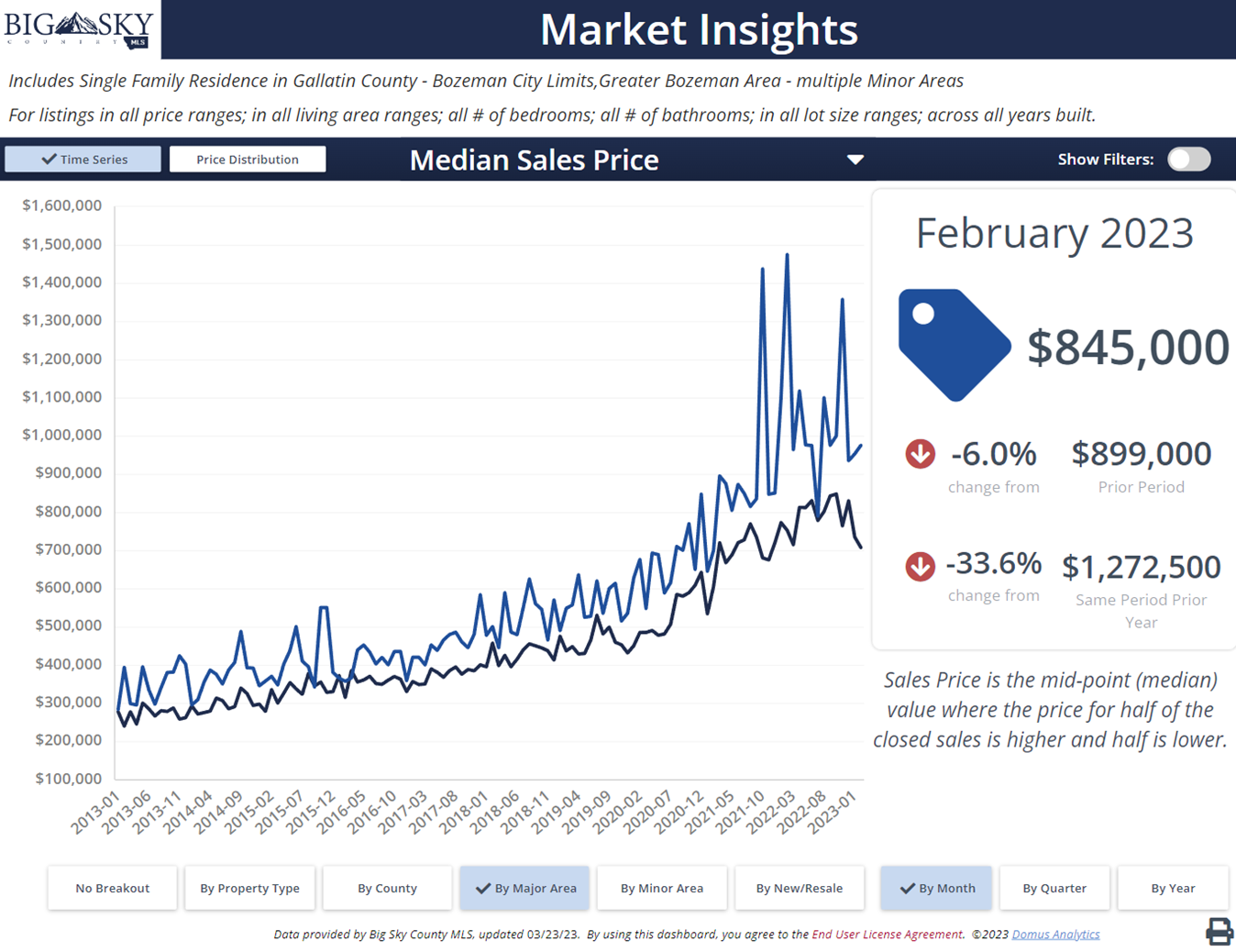 Chart 1: Q1 2023: the median home price inside the city of Bozeman has dropped to $707,500, down ⇓ $180,000 or ⇓ 25.4% from Q4 2022's $887,450.
Outside Bozeman city limits, median home price is $975,000 down ⇓ $19,250 or ⇓ 2%, from Q4 2022's $994,250.
Together, the overall median home price in Bozeman in February 2023 is $845,000, down ⇓ $42,450 or ⇓ 5% from Q4 2022's $887,450.
Home prices had been increasing for over 7 years, but now the forecast ⇒ is for cooling; prices are falling or flattening.
Bozeman home prices had been increasing rapidly since March 2020 but are now slowing.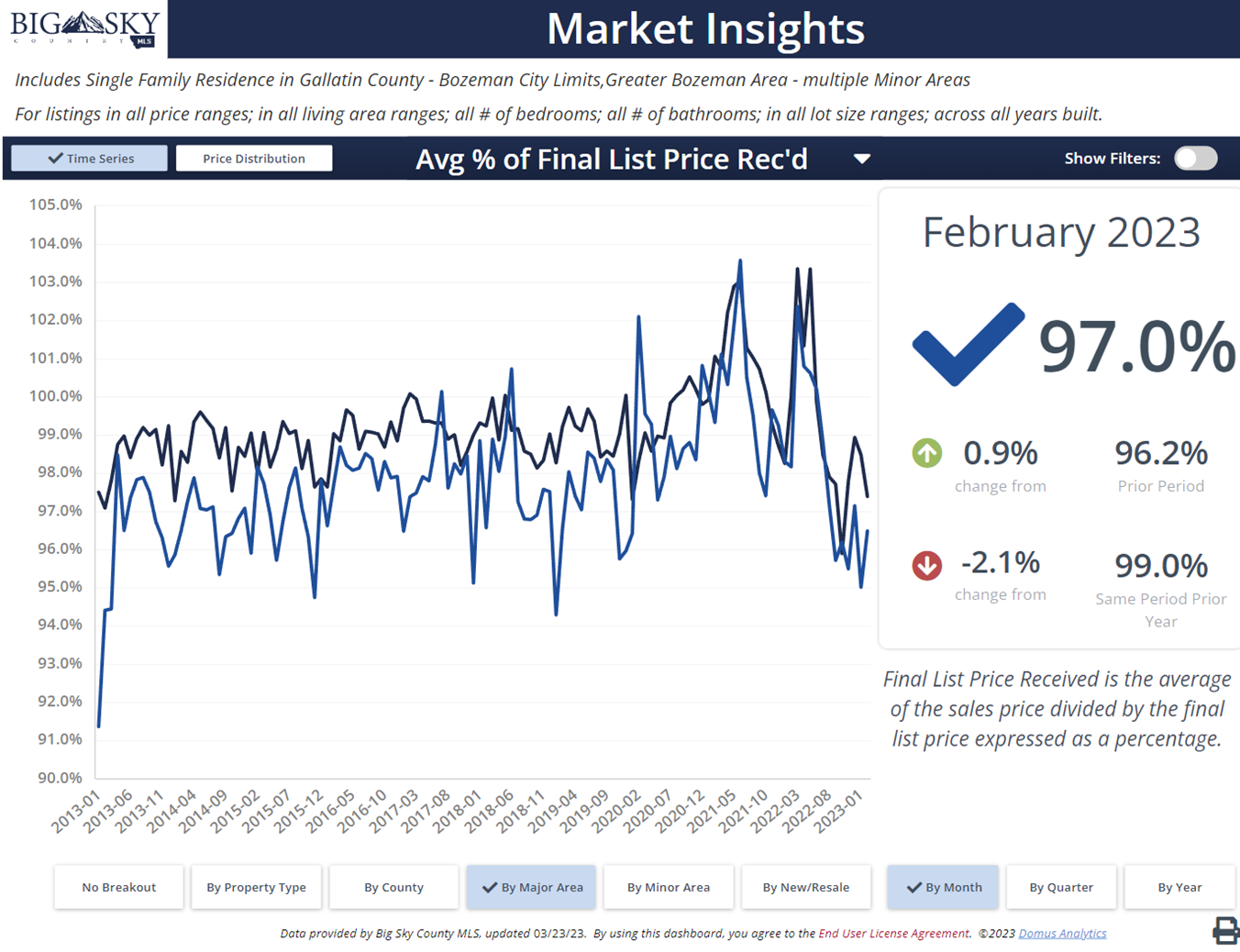 In Q1 2022, we continued with the steepest rise in Bozeman home sales prices in history.
In just one month–January–we were up ⇑ 13.9% or ⇑ $110,000 above Q4 2021 prices, but in Q2 and Q3, price increases began slowing or flattening.
Looking Back: January 2020 vs January 2021 vs January 2022 vs January 2023
Inside Bozeman City Limits: January 2020's median home price, $450,000 was lower than January 2021's, $533,595; this was below January 2022's, $772,500. The January 2023 price was lower at, $735,000.
Outside Bozeman City limits: January 2020's median home price, $627,2700 was lower than January 2021's, $645,000; this was higher than January 2022's, price, $1,100,000. This January's price was $952,500.
Looking Back: Percent of List Price
Chart 2: In late Q1 2023, Average percent of list price is 96.9%; Last Q1, 100.3%; Q1, 2021, 100.5%; and in Q1, 2020, 98.5%.
In December 2020, the percent of list price for Bozeman single-family homes hit 100%, for the first time.
The recent history of high percentages of list price is a testament to the housing boom
Bozeman had been experiencing since late 2020.
Price trends ⇓ continue downward in 2023.
Bozeman Home Sales History
Chart 3: In late January 2023, the number of homes for sale throughout Bozeman was 160.
This number has been decreasing since July 2022's high of 261.
January 2022 saw Bozeman's lowest number of listings, 45, in decades.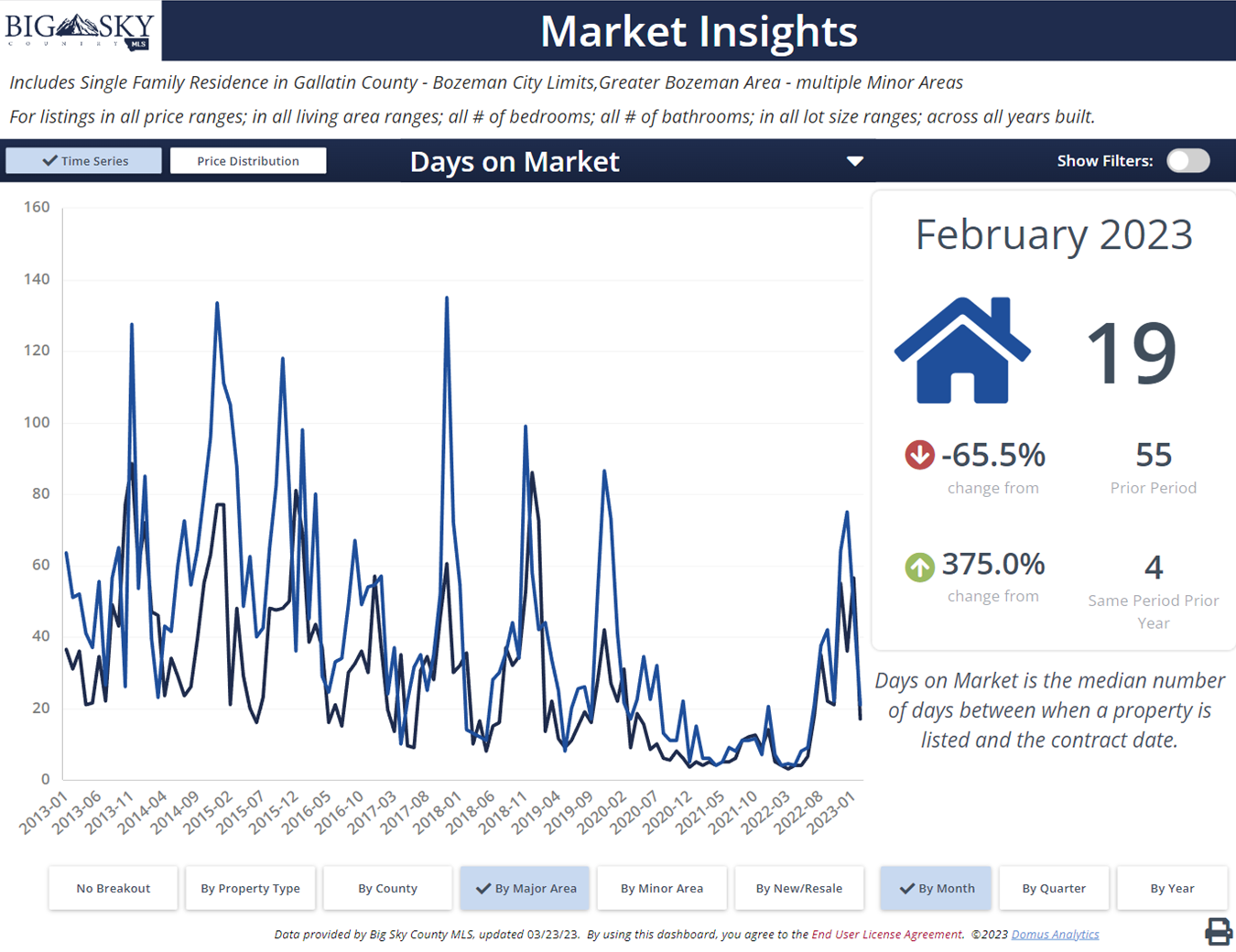 The 2021 high was in January, which saw 248 homes for sale in Bozeman.
Previously, in January 2020, we had 194 listings.
By December of that year, this number had dropped to 68.
Average Days On Market
Chart 4: In Q4 2022, Median Days on Market (MDM) for homes in and outside the city began declining.
Now, in late Q1 2023, MDM for a home inside city limits is 17 days.
MDM outside Bozeman is 21.
Taunya's Featured Area Homes And Land For Sale
---
 LISTINGS IN OTHER SOUTHWEST MONTANA CITIES: BOZEMAN LISTINGS – BELGRADE MT LISTINGS – BIG SKY LISTINGS – GALLATIN GATEWAY MONTANA LISTINGS – LIVINGSTON MONTANA LISTINGS – MANHATTAN MT LISTINGS – THREE FORKS MONTANA LISTINGS