Bozeman School District – Public, Private, Post-Secondary Educational Institutions in Gallatin County, Montana.
In May 2017, Bozeman School District voters approved a $125m bond both for Gallatin high school, to be completed in time for the 2020 school year, and for renovation of the existing Main Street Bozeman high school.
---
"Gallatin County District Schools" include these area schools: Amsterdam #75, Anderson #41, Belgrade #44, Bozeman #7, Gallatin Gateway #35, LaMotte #43, Malmborg #47, Manhattan #3, Monforton #27, Ophir (Big Sky) #72, Pass Creek #25, Springhill #20, Three Forks #24, West Yellowstone #69, Willow Creek #15
To provide an outstanding education in a caring, student-centered environment. High expectations challenge children to achieve their maximum intellectual and social potentials as they develop lifelong learning skills.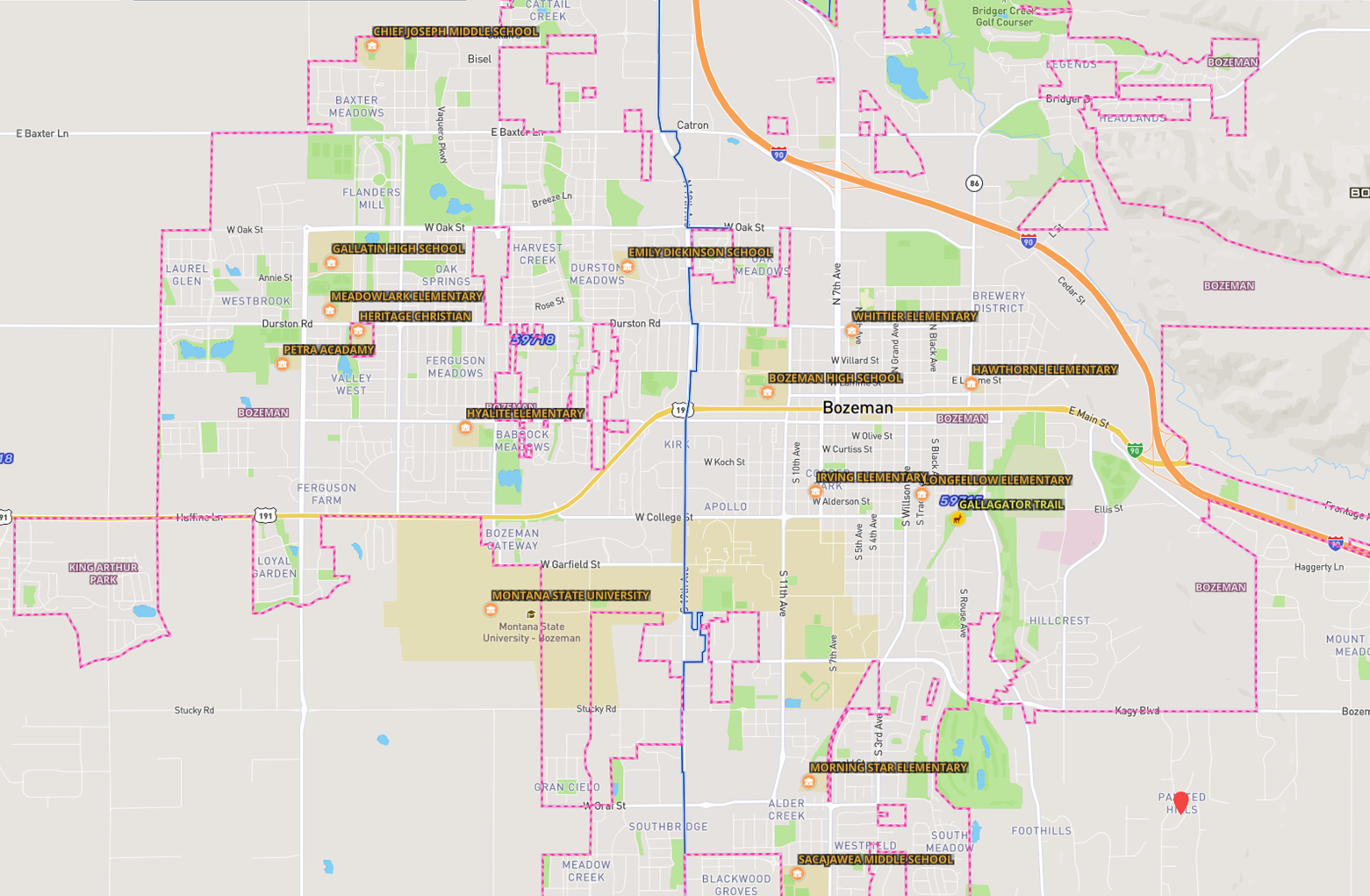 The Bozeman Public School System invests in its students because they are the future. Families, community and educators work collaboratively to meet the diverse needs of all students and to achieve the goal of educational excellence.
Everything that is done must be good for children.
The School's decisions are based on educational soundness, not personal comfort or political expediency. We realize that to continue educational excellence in our world today is to be open to change. We are investigating, learning, trying, exploring, fine-tuning, and constantly leading change. We want to create an environment in our district that is demanding but nurturing, rigorous but compassionate, safe but risk-taking, fosters both independence and collaboration, and requires accountability as well as involvement from everyone.
Bozeman Schools Basic Beliefs
ABOUT STAFF
BSD7 employs and keeps well-qualified, dedicated staff. Diversity of opinion and varieties of teaching styles are encouraged. It is expected that the work of all employees supports the mission of the district. In a time of tight budgets and increasing number of students, the district doesn't ask people to do the impossible. Work assignments are commensurate with resources and support available.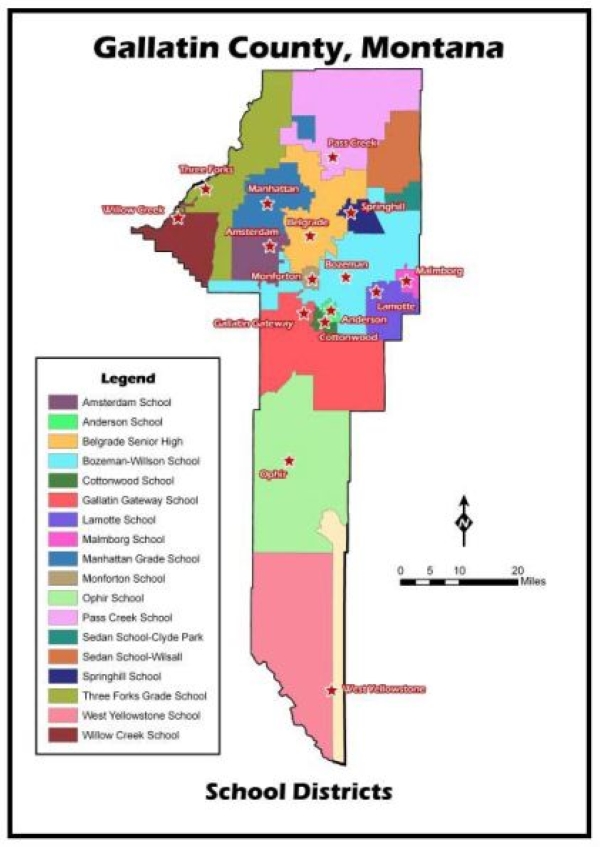 ABOUT STUDENTS
The District believes that, given the right circumstances, all students can and must learn. They must leave our schools prepared to be productive citizens, able to work, and ready to be lifelong learners. Students are treated with respect, dignity and warmth so that they will want to come to school. Each student is special and brings unique gifts and needs to the school. BSD7 celebrates individual differences, takes students as they come to, and provides for differences in abilities, needs and learning styles. All school district staff are advocates for the needs of children.
ABOUT COMMUNITY AND PARENTS
Community involvement and support is essential for effective schools. Parents are their children's first teachers and central to their lives; therefore, they must be major participants in the educational process. Parents and community need to be involved in planning and implementing the education program of the district. 
ABOUT RESOURCES
Our resources go directly to the instructional process, as much as possible. We are good stewards of the funds we receive from the public. We are responsible for taking care of the schools and other facilities our community has entrusted to us. Our buildings and equipment need to be safe, attractive and comfortable. Our excellent school system promotes economic viability in Bozeman and Montana.
If you are interested in locating homes for sale in Bozeman and other communities near area schools, please call Taunya at 406.579.9683.
Montana State University (MSU)
Nestled in the beautiful Gallatin Valley, in Bozeman, MT, Montana State University (MSU) is a safe, supportive community, offering significant opportunity to integrate your educational experience with the great outdoors, from skiing and snowboarding to fly fishing and dinosaur digs. MSU is an accredited Montana land grant university offering bachelor's, master's, and doctoral degrees in 120 fields of study. Montana State University is ranked in the top tier of U.S. research institutions by the Carnegie Foundation for the Advancement of Teaching.
Students are encouraged to pursue their specific interests by immersing themselves in creative and/or research experiences. Talented faculty work closely with students to help them focus their work and develop their ideas. Accomplished faculty researchers interact with students to combine scientific principles, theory, ethics, and techniques with the opportunity to explore new concepts and ideas that address significant global issues. Students at Montana State University have the opportunity to explore their passions with the mentoring and guidance of some of the best teachers and researchers in the world.
| | |
| --- | --- |
| Bozeman High School | (406) 522-6200 |
| Bozeman High School Attendance | (406) 522-6210 |
| Gallatin High School | (406) 522-4600 |
| Gallatin High School Attendance | (406) 522-4610 |
| Bridger Alternative High School | (406) 522-6100 |
| Bridger Alternative High School Attendance | (406) 522-6110 |
| Chief Joseph Middle School | (406) 522-6300 |
| Chief Joseph Middle School Attendance | (406) 522-6310 |
| Emily Dickinson Elementary School | (406) 522-6650 |
| Emily Dickinson Elementary School Attendance | (406) 522-6610 |
| Hawthorne Elementary School | (406) 522-6700 |
| Hawthorne Elementary School Attendance | (406) 522-6710 |
| Irving Elementary School | (406) 522-6600 |
| Irving Elementary School Attendance | (406) 522-6565 |
| Longfellow Elementary School | (406) 522-6150 |
| Longfellow Elementary School Attendance | (406) 522-6160 |
| Morning Star Elementary School | (406) 522-6500 |
| Morning Star Elementary School Attendance | (406) 522-6510 |
| Sacajawea Middle School | (406) 522-6470 |
| Sacajawea Middle School Attendance | (406) 522-6410 |
| Whittier Elementary School | (406) 522-6750 |
| Whittier Elementary School Attendance | (406) 522-6770 |
Gallatin County School Districts – Gallatin County, MT Public and Private Schools
| | | | |
| --- | --- | --- | --- |
| Schools & Administrators | Address | Phone | Enrollment |
| Bozeman School District Superintendent K-12 | P.O. Box 520 | 406 522-6001 | |
|    Superintendent | Bozeman, MT 59771 | 406 582-3093 fax | |
| Chief Joseph Middle School 6-8 | 309 N. 11th 6th – 8th | 406 588-6300 | 553 |
|    Principal | Bozeman, MT 59715 | | |
| Emily Dickenison K-5 | 2345 Annie | 406 522-6650 | 516 |
|    Principal | Bozeman, MT 59718 | 406 522-6306 fax | |
| Hawthorne K-5 | 114 N. Rouse | 406 522-6700 | 296 |
|    Principal | Bozeman, MT 59715 | 406 522-6730 fax | |
|  Irving School K-5 | 611 S. 8th | 406 522-6600 | 346 |
|    Principal | Bozeman, MT 59715 | 406 522-6690 fax | |
| Longfellow K-5 | 516 S. Tracy | 406 522-6150 | 316 |
|    Principal | Bozeman, MT 59715 | 406 522-6180 fax | |
| Morning Star K-5 | 830 Arnold Street | 406 522-6500 | 550 |
|    Principal | Bozeman, MT 59715 | 406 522-6550 fax | |
| Sacajawea Middle 6-8 | 3525 S. 3rd | 406 522-6400 | 591 |
|    Principal | Bozeman, MT 59715 | 406 522-6474 fax | |
| Whittier K-5 | 511 N. 5th | 406 522-6750 | 332 |
|     Principal | Bozeman, MT 59715 | 406 522-6780 fax | |
| Bozeman High 9-12 | 205 N. 11th | 406 522-6200 | ~1700 |
|     Dan Mills | Bozeman, MT 59715 | 406 522-6222 fax | |
| Gallatin High School | 4455 Annie Street | 406 522-4600 | ~1200 |
|     Principal | Bozeman, MT 59718 | 406 522-4622 fax | |
| | | | |
| --- | --- | --- | --- |
| Schools & Administrators | Address | Phone | Enrollment |
| Superintendent K-12 | P.O. Box 166 | 406 388-6951 | |
|    Superintendent | Belgrade, MT 59715 | 406 388-0122 fax | |
| Ridge View PK-4 | 117 Greenbelt Dr | 406 388-4534 | 469 |
|    Principal | Belgrade, MT 59714 | | |
|  Martha Fox Heck/Quaw | 308 N. Broadway | 406 388-4104 | 514 |
|    Principal | Belgrade, MT 59714 | | |
| Belgrade Intermediate 4-6 | 421 Spooner Rd | 406 388-3311 | 687 |
|    Principal | Belgrade, MT 59714 | | |
| Belgrade Middle School 7-8 | 410 Triple Crown Rd | 406 388-3311 | 416 |
|    Principal | Belgrade, MT 59714 | | |
| Belgrade High School 9-12 | 303 N. Hoffman | 406 388-4224 | 859 |
|    Principal | Belgrade, MT 59715 | | |
| | | | |
| --- | --- | --- | --- |
| Schools & Administrators | Address | Phone | Enrollment |
|   Superintendent K-12 | P.O. Box 425 | 406 284-6460 | |
| | Manhattan, MT 59741 | 406 284-6853 fax | |
|    Principal K-8 | | 406 284-3250 | 335 |
|    Principal 9-12 | | 406 284-3341 | 225 |
| | | | |
| --- | --- | --- | --- |
| Schools & Administrators | Address | Phone | Enrollment |
|    Principal K-12 | P.O. Box 189 | 406 285-6991 | 35 |
| | Willow Creek, MT 59760 | 406 285-6923 fax | |
| | | | |
| --- | --- | --- | --- |
| Schools & Administrators | Address | Phone | Enrollment |
|    Head Teacher K-8 | 6020 Springhill Community | 406 586-6485 | 18 |
| | Belgrade, MT 59714 | | |
| | | | |
| --- | --- | --- | --- |
| Schools & Administrators | Address | Phone | Enrollment |
|    Dorothy Delaney & Kate Anderson K-5 | 13233 Cottonwood Rd | 406 763-4913 | 14 |
| | Bozeman, MT 59718 | 406 763-4913 fax | |
| | | | |
| --- | --- | --- | --- |
| Schools & Administrators | Address | Phone | Enrollment |
|    Superintendent K-12 | 212 E. Neal | 406 285-6830 | |
| | Three Forks, MT 59752 | 406 285-3216 fax | |
| Three Forks Elementary K-8 | 210 E. Neal | 406 285-3503 | 392 |
|    Principal | Three Forks, MT 59752 | | |
| Three Forks High School 9-12 | 210 E. Neal | 406 285-3509 | 185 |
|    Principal | Three Forks, MT 59752 | | |
| | | | |
| --- | --- | --- | --- |
| Schools & Administrators | Address | Phone | Enrollment |
|    Head Teacher K-8 | 3747 Pass Creek Rd | 406 388-6353 | 9 |
| | Belgrade, MT 59714 | 406 388-7978 fax | |
| | | | |
| --- | --- | --- | --- |
| Schools & Administrators | Address | Phone | Enrollment |
|    Superin./Principal K-8 | 6001 Monforton School Rd | 406 586-1557 | 172 |
| | Bozeman, MT 59718 | 406 587-5049 fax | |
| | | | |
| --- | --- | --- | --- |
| Schools & Administrators | Address | Phone | Enrollment |
|    Superint. K-8 | P.O. Box 265 | 406 763-4415 | 163 |
| | Gallatin Gateway, MT 59730 | 406 763-4886 fax | |
| | | | |
| --- | --- | --- | --- |
| Schools & Administrators | Address | Phone | Enrollment |
|    Super./Prin. K-8 | 10040 Cottonwood Rd | 406 587-1305 | 193 |
| | Bozeman, MT 59718 | 406 587-2145 fax | |
LaMotte #43
| | | | |
| --- | --- | --- | --- |
| Schools & Administrators | Address | Phone | Enrollment |
|   Principal K-8 | 841 Bear Canyon Rd | 406 586-2838 | 68 |
| | Bozeman, MT 59715 | 406 585-8626 fax | |
| | | | |
| --- | --- | --- | --- |
| Schools & Administrators | Address | Phone | Enrollment |
|    Lead Teacher K-8 | 375 Jackson Creek Rd | 406 586-2759 | 15 |
| | Bozeman, MT 59715 | 406 586-9289 fax | |
West Yellowstone #69
| | | | |
| --- | --- | --- | --- |
| Schools & Administrators | Address | Phone | Enrollment |
|    Superintendent K-12 | P.O. Box 460 | 406 646-7617 | |
| | West Yellowstone, MT 59778 | 406 646-7232 fax | |
| West Yellowstone Elementary K-8 | 500 Delacy | | 139 |
|   Principal | West Yellowstone, MT 59758 | | |
| West Yellowstone High School 9-12 | 500 Delacy | 406 646-7617 | 65 |
|    Principal | West Yellowstone, MT 59758 | | |
Ophir #72 (Big Sky)
| | | | |
| --- | --- | --- | --- |
| Schools & Administrators | Address | Phone | Enrollment |
|    Superint. K-8 | 45465 Gallatin Rd | 406 995-4281 | 175 |
| | Gallatin Gateway, MT 59730 | 406 995-2161 fax | |
| | | | |
| --- | --- | --- | --- |
| Schools & Administrators | Address | Phone | Enrollment |
|    Head Teacher K-6 | 6360 Camp Creek Rd | 406 282-7216 | 88 |
| | Manhattan, MT 59741 | 406 282-7724 fax | |
 State of Montana Education Office of Public Instruction