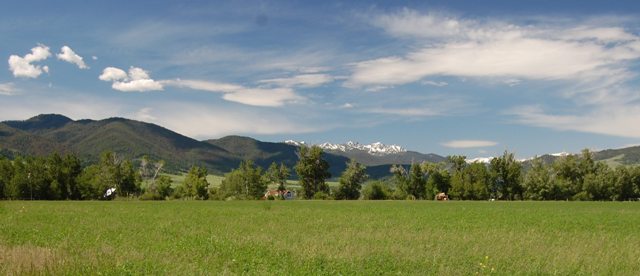 A Quick Montana History: A vast array of Native Americans were the first inhabitants of Montana, including the larger tribes like the Crows, Kootenai, Cheyenne, Blackfeet, Sioux, Assiniboine, Salish, Gros Ventres, Pend d'Oreille, and the Kalispel. The first whites to cross Montana Territory were more than likely those from the 1804-1806 Lewis and Clark Expedition, after which followed fur trappers and traders, Roman Catholic missionaries, cattle and sheep ranchers, wheat and dairy farmers, and the mining and timber industries. Today mining, agriculture, and tourism are Montana's main industries.
According to Department of Numbers, from 2010 to 2015 the Montana economy grew in real terms by 11.69% at a compound annual growth rate of 2.24% per year. In 2016, Real Montana GDP was $41.030 billion.
Here you will find information and facts about southwest Montana real estate home sales data, land sales statistics, demographics, land use issues, weather facts, climate data, future growth, affordable homes, population statistics, economic reports, and a wealth of technical Bozeman Montana real estate information not found on other southwest Montana real estate websites.
If you are interested in Bozeman residential properties, Taunya Fagan offers outstanding southwest Montana Real Estate services for those interested in buying or selling Montana property in Bozeman, Belgrade, Big Sky, Big Timber, Churchill, Ennis, Four Corners, Gallatin Gateway, Livingston, Manhattan, Three Forks, Whitehall, Montana. This Montana real estate site also offers comprehensive property search technology for finding homes, ski homes, luxury homes, luxury condos, townhouses, and any other residential properties and realty in the southwest Montana mountain region.
On this website locate southwest Montana events like art, entertainment, music and recreation, or simply more real estate information with up-to-date realty information about Bozeman, Montana and the surrounding region.
Taunya Fagan gives clients the advantage of superior Montana real estate service for the purchase and sale of residential and luxury homes; private estates; Montana ranches and farms; horse and commercial properties Montana land and building lots; residential properties, condos and town houses in Bozeman, Belgrade, Big Sky, Ennis, Gallatin Gateway, Livingston, Manhattan, Montana.
*All information contained herein is derived from sources deemed reliable, however, information is not guaranteed by Taunya Fagan Bozeman real estate, agents, brokers, or ESTATE House.
---
BOZEMAN, MONTANA REAL ESTATE REPORTS