Bozeman Recreation 2022: Parks, Hunting, Fishing, Hiking, Skiing, Climbing, Cycling, Golfing, Horsemanship
Bozeman Golf Courses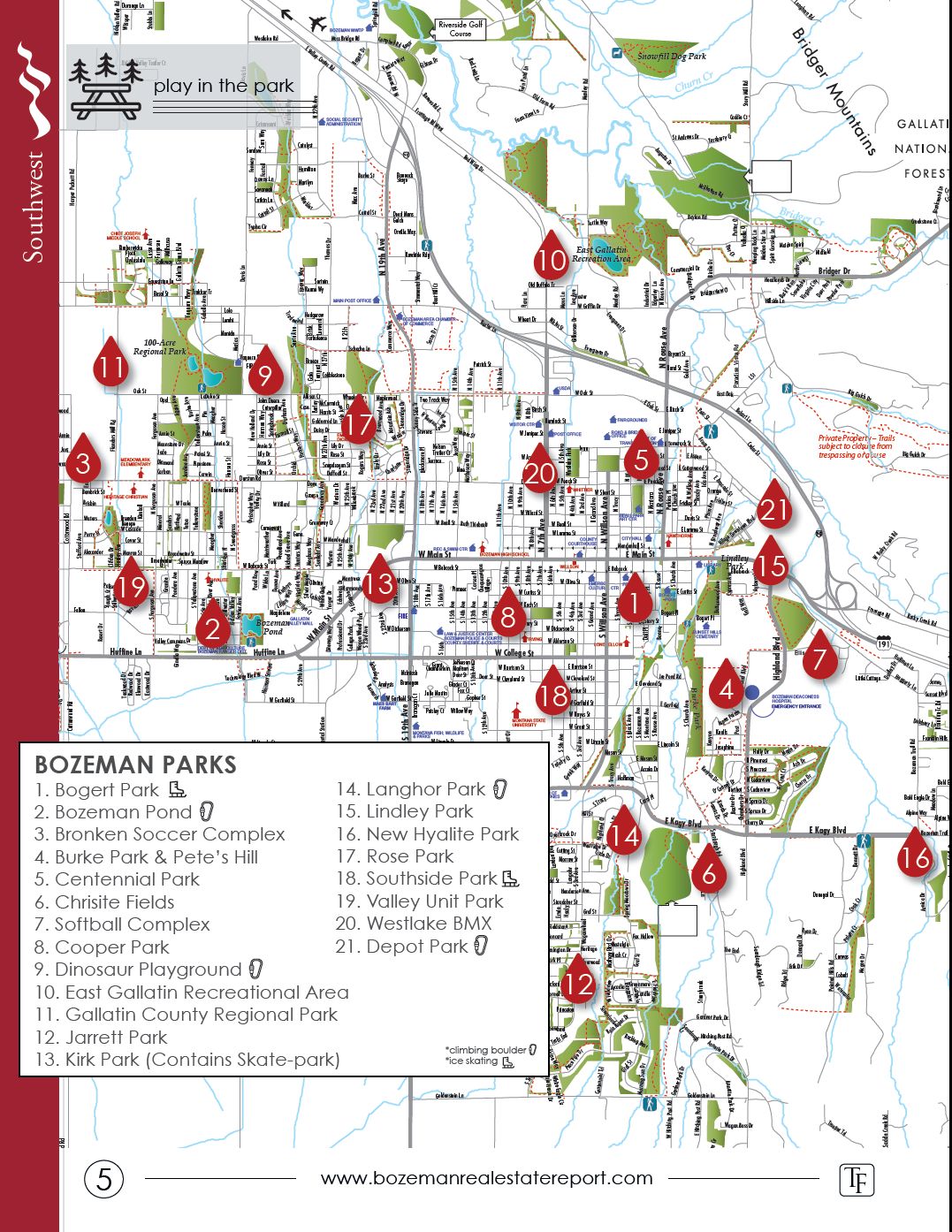 ---
Bozeman Parks Map

(Enlarges)
Within Bozeman's city limits, the Bozeman Parks Division is responsible for the overall development and maintenance of 42 public parks, 52 miles of trails and associated sports fields and open space, offering everyone access to a wealth of Bozeman, Montana recreation.
Many local Bozeman groups assist in the upkeep of Bozeman's parks, open spaces, and 52 miles of trails.
A few of them are: Glen Lake Rotary Park (formerly "East Gallatin Recreation Area"); Sunrise Rotary Club; Bozeman Ponds; Breakfast Optimists Club; Bozeman's many miles of trails; Gallatin Valley Land Trust.
Many Bozeman Homeowners Associations maintain their neighborhood parks.
Attend Bozeman Events, Discover Fun Things To Do.
---
Bozeman Trap Shooting Clubs
| | | |
| --- | --- | --- |
| Gallatin Action Shooters | 4442 Bannock Drive, Bozeman MT 59715 | (406) 585-3767 |
| Gallatin Sporting Clays | Bozeman, MT 59772 | (406) 388-1346 |
| Bridger Skeet Club | Belgrade, MT 59714 | (406) 580-0866 |
| Manhattan Wildlife Association | 18 Angus Drive, Belgrade MT 59714 | (406) 288-1517 |
---
Bozeman Trout Fishing Clubs
| | | |
| --- | --- | --- |
| Gallatin Valley Wad'n Women | 13840 Kelly Canyon Rd., Bozeman MT 59715 | (406) 585-8348 |
| Headwaters Fly Fishers | PO Box 10428, Bozeman MT 59719 | (406) 551-4163 |
| Madison-Gallatin Chapter of TU | Bozeman, MT 59715 | (406) 587-5501 |
---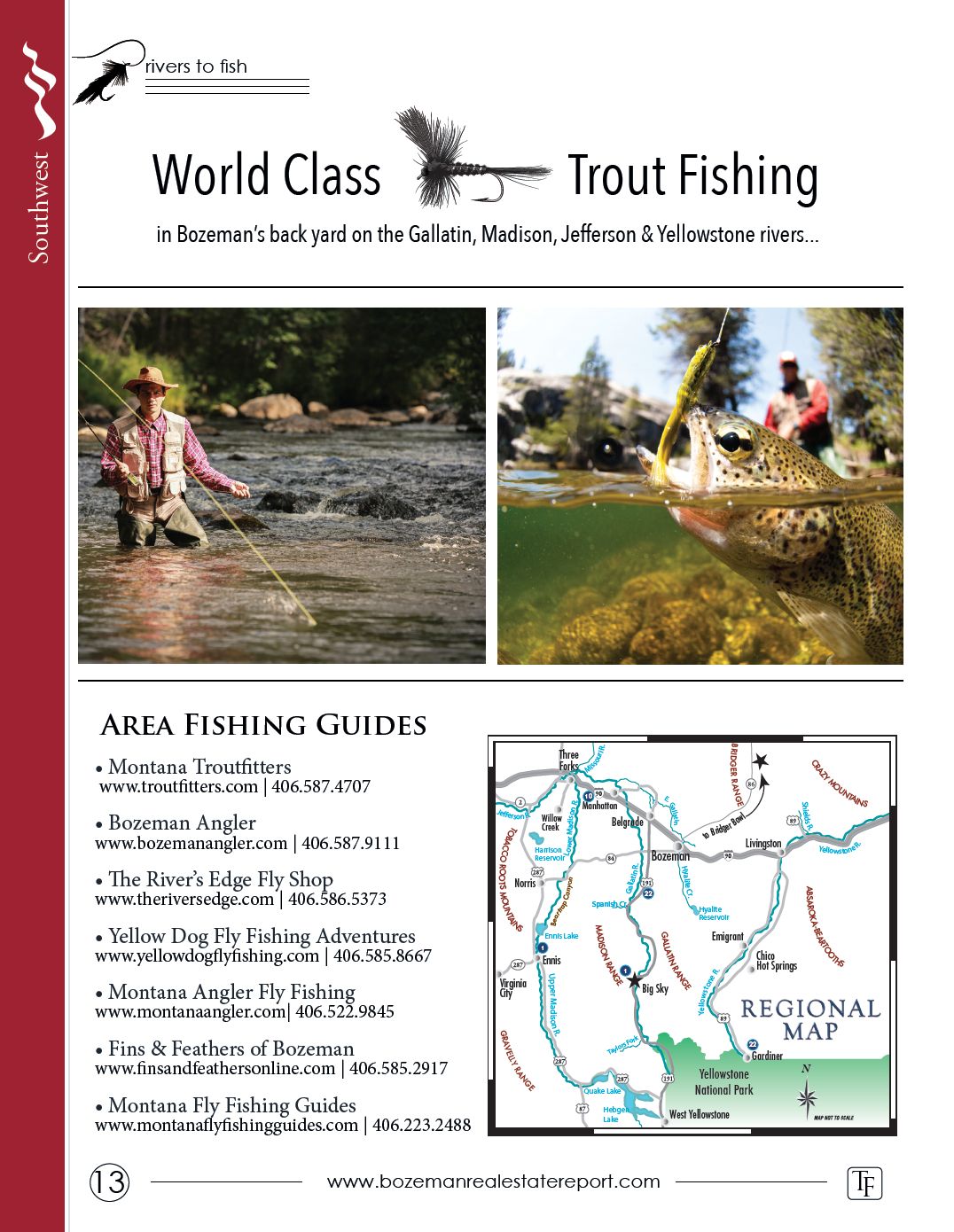 Bozeman Rock, Ice, Sport Climbing
Bozeman's annual Ice Festival began in 1996 and promotes and protects access to Montana recreational ice climbing in Bozeman's Hyalite Canyon.
The Ice Festival in Bozeman, MT also strives to develop Olympic-caliber ice climbing competition in southwest Montana. Professional and novice ice climbers from around the world visit Bozeman in December each year to participate in clinics and World Cup events, enjoy gear demonstrations and inspiring films, and attend evening entertainment.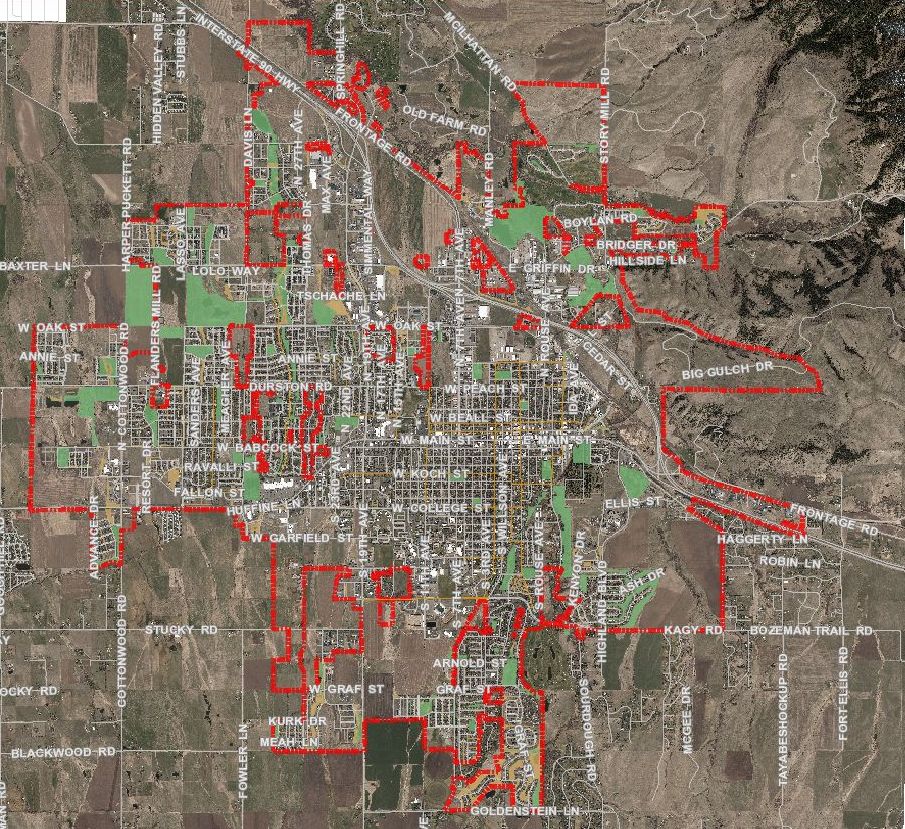 Bozeman's Spire Climbing Center, a premier indoor rock climbing gym, has over 18,000 square feet of recreational climbing surfaces catering to all climbing skill levels, offering 31 top ropes, 39 lead lines, and six auto belays.
---
Bozeman Bicycling
For bicycle touring, bike racing, or mountain biking in southwest Montana try Gallatin Valley Bike Club, and for other bike clubs try Montana cycling clubs and groups.
---
Montana Hunting Resources
---
Montana Fishing Resources
---
---
Area Skiing
2021-22 Bridger Bowl  Bozeman Skiing and Snowboarding Area Information
Bridger Bowl is a private, nonprofit community ski area with no owners. Consequently, all proceeds are reinvested into the area to cover operational expenses and improvements. Because there are no owners or shareholders to compensate, Bridger Bowl can afford to offer low-cost tickets for high-quality skiing and snowboarding. And after skiing this premiere non-profit Montana ski area, visit Bozeman, Montana for a host of other Montana winter-time activities.
Considered one of America's top ten ski resorts–and one of the favorite Montana ski resorts–the modern lifts of Montana's Big Sky Resort transport skiers and snowboarders up the slopes of regal Lone Mountain, Andesite Mountain, and Flat Iron Mountain for up to 4,350 vertical feet of descent. Learn to ski at Big Sky Resort's world-class ski school or simply enjoy all the other winter opportunities Big Sky, MT has to offer.
In June 2017, Crosscut Mountain Sports Center bought Bohart Ranch for $2.5M.
Next door to Bridger Bowl you'll find Crosscut Mountain Sports Center, Nordic ski center with cross-country skiing and mountain biking trails, just 16 miles northeast of Bozeman, Montana in Bridger Canyon. Crosscut is also 90 miles north of Yellowstone National Park. Crosscut offers some of the highest quality Nordic skiing in the United States.
The Center has a 27 km scenic trail system, on both private and US Forest Service (USFS) lands, that winds through terrain well-suited to all skiing abilities. The ski trails are professionally groomed for both classic cross country and skate skiing. And in the summer bring your mountain bike because, Crosscut has excellent mountain biking and hosts the Crosscut Bash, a national mountain bike race.
---