2021 Market Prediction For Bozeman Real Estate
Bozeman's real estate forecast is for 1. Below average availability ⇓ of all residential property. 2. Continued increase in residential prices ⇑. 3. Significant new residential ⇑ construction (shortage of building lots in 2021). 4. Slight increase in mortgage rates ⇑.
RESID.

*

PRICE

(aver.)

DAYS ON MARKET

# LISTINGS

NOV 2021

$760,850

23

126

AUG  2021

$695,700

28

127

MAY 2021

$641,550

38

155

FEB 2020

600,950

45

231

NOV 2020

$577,550

51

291
The 2021 U.S. real estate prediction from the National Association of REALTORS® (NAR) chief economist: Lawrence Yun predicts home sales in 2021 will rise ⇑ 9%, prices for homes will rise ⇑ 3%, new home sales will increase by a significant ⇑ 23%, and home mortgage rates will rise ⇑ 1/10 of 1%.
How the 2021 Bozeman Real Estate Forecast Is Progressing,

November

 2021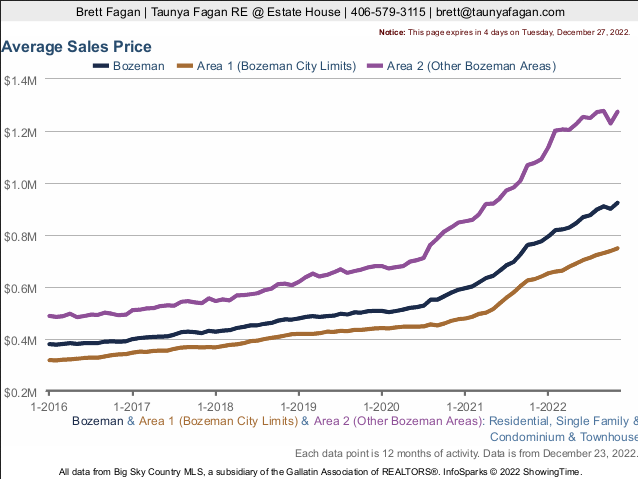 Chart 1: The cost of residential property in Bozeman continues upward in November 2021. The average cost is $624,750 inside the city and $1,067,800 outside the city of Bozeman. Together, the overall price of property in Bozeman is $760,850.
Last year's Bozeman real estate forecast never factored a Coronavirus pandemic into the equation; the pandemic triggered flight from big, complex cities to smaller, simpler cities like Bozeman.
Montana's Hottest Real Estate Market – Bozeman Real Estate Boom 2021
No one ever imagined that 2020 would be a record sales year for Bozeman, with $1.08 billion in closed residential sales.
Inventory continues to fall in last quarter of 2021, with the number of listings of homes, condos, and townhouses together at 126, down from a recent record high of 400 last May (2020) and down from a mid-decade, March 2015, high of 540. So how much does just a Bozeman home cost at this time? How much do homes cost in Gallatin County as a whole?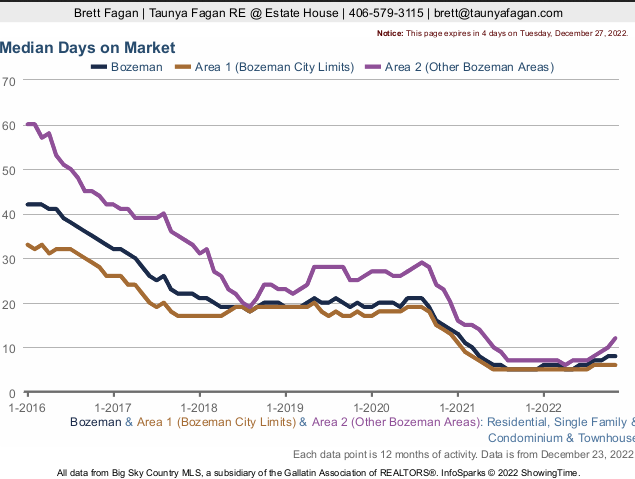 Chart 2: In November 2021, median days on market (MDOM) continues to plummet:  inside Bozeman it's 20 and outside Bozeman, 29.
One year ago: November 2020: Inside Bozeman, ADOM was 44 and outside city limits, ADOM was 65.
2020-21 Review: Covid-19 pushed us into a housing boom in Bozeman, which also precipitated a commercial real estate explosion with construction of apartment buildings, new hotels, new schools, retail projects, and more.
Bozeman also continues addressing overdue road maintenance, street-building, and infrastructure expansion. 
History, Bozeman Building Permits Issued
The most recent Bozeman building permit numbers come from the end of Q2 2021: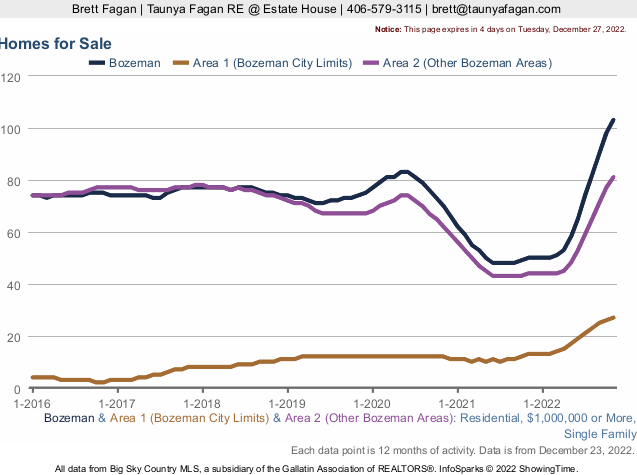 Chart 3: November 2021, the number of residential properties for sale, (*homes, condos, townhomes) began falling in May 2020 for all of Bozeman, from a high of 399  listings to the present 126 listings.
New listings numbers are falling all year, from 1896 in Q1 to 1754 Q4 2021. This drop in new listings is just another component of why houses cost so much in Bozeman.
Total residential for sale numbers began rising early this year, nonetheless, this year's numbers are historically lower than usual. The primary reason for low numbers in 2021 is most likely due to high home sales in 2020, and…
…apparently, fewer than normal Bozeman real estate owners want to sell in 2021. Bozeman has been found and way more want to stay than leave.
The forecast is for this historic trend–fewer residential properties for sale in Bozeman–to continue into 2022.