Bozeman's Triangle Community Plan, Gallatin County, MT
Montana Regional Cooperation: Managing Growth For Bozeman, Belgrade, Four Corners
This Bozeman growth plan is committed to prudently guiding expansion among Bozeman, Belgrade, Four Corners, and surrounding villages and unincorporated Gallatin County communities.
Bozeman's Triangle Community Plan began in 2013 with a grant from the Sonoran Institute. But interest in coordinating growth and land use among the region's towns began much earlier.
Since 2010, Gallatin County has been one of the fastest growing counties in the State of Montana. According to the U.S. Census Bureau, Gallatin County's population was 67,831 in 2000, 89,513 in 2010. Today, Gallatin County's population has grown to approximately 128,000 in 2023.
Gripes and grills heard around Gallatin County: Bozeman's traffic is out of control! We've become Boz Angeles! What's the City doing about traffic? Even Belgrade has traffic problems! 'Too much Covid-related growth.
Gallatin County, Montana Population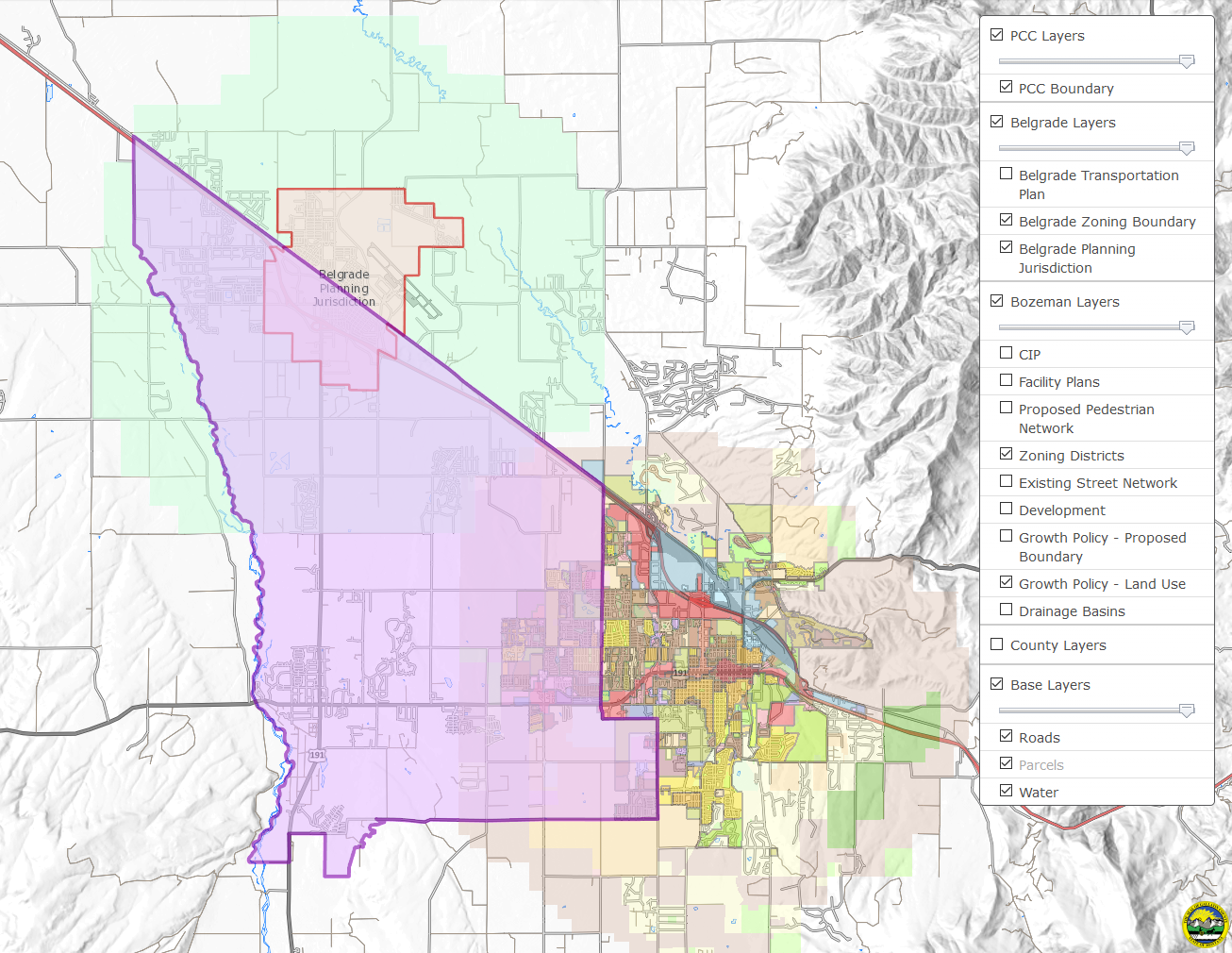 Gallatin County, Montana's population grew about 23% between January 2010 and January 2020. Growth data regarding the 3,141 county/county-equivalents in the US finds Gallatin County Montana's growth rate 36th out of 3,141, one of the  fastest growing counties in the US.
According to Gallatin County planning, continued population growth at a modest 2.75% will put Gallatin County's population in the vicinity of 200,000 in the next twenty years.
Gallatin County, MT Triangle Area
Gallatin County's Triangular Area is roughly the triangular section between Bozeman, Belgrade, and Four Corners, is rapidly growing and traffic management into mid-century is an important aspect of ensuring prudent land use and maintaining desirable community character.
"Regional cooperation in a state with a strong tradition for private property rights and local land use control can seem contradictory and impossible to implement."
The old Gallatin County, an economy grounded primarily on agriculture and natural resources, is quickly morphing into an economy based primarily on service, technology, and education. Consequently, its agricultural heritage is slowly moving away from Bozeman, Belgrade, and even other regional towns traditionally based on a Montana farm and ranch lifestyle.
Thus, the County's growth policy is tasked with investigating regional demographics, land use and present policies, revising the transportation infrastructure, reviewing existing policies between Gallatin County cities and villages, addressing concerns about health and safety, ensuring wise water use, expanding present wastewater treatment, and enhancing public services, like schools, police, and fire.
Belgrade, Bozeman, and Gallatin County Will Coordinate Land Use Toward:
Harmonizing patterns of future land development, reducing sprawl, and creating compact, contiguous development and infill.
Fostering ways for agriculture, industry, and business to exist harmoniously.
Implementing community services in health, education, and recreation, by developing new medical facilities, new schools, additional playgrounds and parks.
Improving physical systems, including development of multi-modal and public transportation networks, and updating and expanding present utilities like water and sewer.
Conserving environmental resources, which would include reducing sprawl and preserving open space, conserving agricultural lands, protecting wildlife habitat, expanding water resources.
Planning Coordination Committee (PCC)
Create a Planning Coordination Committee with representatives from Belgrade, Bozeman, and Gallatin County, a committee that will promote clear communication and information sharing.
Learn from other communities about regional planning, and work in concert with Montana State University on goal-changing factors that affect planning outcomes.
Scrutinize and change/update as necessary predetermined Triangle Area growth policies.
Encourage community and individual participation in vision and planning in Gallatin County's Triangle Area.
Essential components to the Plan come down to transportation, wastewater, and key services like building schools and ensuring adequate fire protection.
Four Zoning Districts Involved in the PCC
Four Corners Zoning District
Gallatin County/Bozeman Zoning District
River Rock Zoning District
Zoning District #1
Additional Components of the PCC
Bozeman Community Plan Boundary
Belgrade and Bozeman City Boundaries
Belgrade City-County Planning Jurisdiction
Montana Public Lands
Conservation Easements
Montana State University Lands
Learn more on the Gallatin County Triangle Community Plan or Check out the Triangle TRAILS plan
The Triangle Community Plan is authorized by Montana State Statute and the Gallatin County Growth Policy.
Written by Brett Fagan. Special thanks to the Sonoran Institute, the City of Bozeman, and Gallatin County for information used to research and write this article.
---
BOZEMAN REAL ESTATE REPORTS