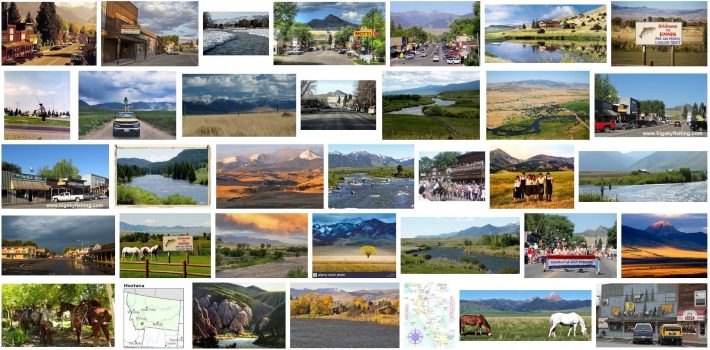 Ennis, Montana Looks And Feels Like A True Western Town
The Tobacco Root Mountains to the northwest, the Madison Range to the east, and the Snowcrest and Gravelly Mountain Ranges to the south surround all Ennis, Montana real estate.
Ennis Montana, named in 2009 by Cowboy Magazine as a top 20 western town, was named for freighter, William Ennis.
This small, idyllic western town is located in Montana's Madison Valley, along the world famous Madison River, one of Montana's finest trout fishing streams. The US government owns three million acres in the Beaverhead National Forest, near Ennis, Montana.
The Flathead, Bannock, and Shoshone Native American tribes called the Ennis Valley, "The Land of the Shining Mountains," an apt description of this region of Southwest Montana, known for excellent hunting and fishing.
Ennis, Montana is 45 miles from Bozeman, Montana; 60 miles from Butte, Montana; 60 miles from Yellowstone National Park; and 90 miles from Dillon, Montana. Visit Ennis, MT to discover your Montana mountain getaway, search Ennis Montana homes, Ennis Montana ranches, Ennis Montana hunting cabins, Ennis Montana horse property, Madison County Montana land, and Montana fishing property.
Ennis, MT History
In 1863, while hiding from the Crow Indians, Bill Fairweather and party, on their way to Yellowstone Country to the southeast, discovered Montana gold in a gulch lined with Alder trees, which they aptly named Alder Creek.
At this time, this south-west Montana region was Idaho Territory and the discovery of gold precipitated a new gold rush, which has been recorded as the largest placer gold strike in world history, producing $10 million in its first year.
Ennis, Montana is famous for hunting, fishing, hiking and is west of Big Sky, Montana in the Madison River Valley. Ennis Lake is formed by a dam in the Madison River just above Bear Trap Canyon, creating the Upper Madison River and the Lower Madison River.
Near-by Virginia City, Montana is only 12 miles west of Ennis, MT and was established in 1863. Virginia City, MT is the United States' only complete and original mining town from that era. Next door is Nevada City, Montana, which remains to this day a busy mining town in much the same way it has been for over 100 years. In 1864, this part of Idaho's territory became Montana Territory.
Ennis, MT is off US Highway 287 and lies 40 miles south of Interstate 90 (I-90) and 70 miles northwest of the west entry to Yellowstone National Park at West Yellowstone, Montana.