Big Sky Montana is a vibrant, unincorporated community in southwest Montana, between Bozeman and West Yellowstone, Montana – 2022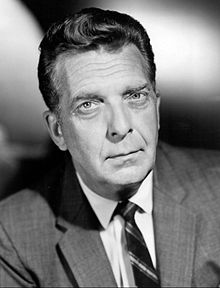 History of Big Sky Montana: In 1902, Augustus Franklin Crail was the first to homestead in Big Sky, choosing today's "Meadow" for his homestead.
Until the early 1970's, Big Sky (the term from A.B. Guthrie Jr's novel of the same name) was a quiet area with a few Montana ranches along the Gallatin River.
Now, Ken McBride's Ranch, the Crail Ranch, plus the 5-Bar-B Ranch are today's Meadow and Mountain Villages.
 Big Sky Montana: Population ~ 3500; Latitude 45.285, Longitude 111.368, Elevation ~6,200'
To this day, Buck's T-4; Karst Camp, home to the area's first ski lift in 1935, the 320 Ranch, and the Rainbow Ranch Lodge are familiar sites in the ruggedly pristine Gallatin Canyon, Montana.
Chet Huntley, born in Cardwell, Montana, Huntley attended Montana State University (Montana State College back then) for a time. His career began at Seattle's KIRO AM. He then moved to other northwest stations before switching to CBS Radio in 1939, ABC Radio in 1951, NBC Radio in 1955, and NBC television in 1956. He retired from NBC television in 1970.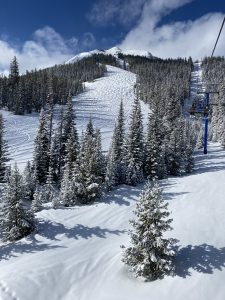 In an effort to develop Big Sky, Huntley created Big Sky, Incorporated, believing Big Sky, Inc., (not to be confused with the present community of Big Sky) with a focus on skiing development, real estate and commercial development, would invigorate the economy of Montana for future generations.
Though never investing his own money in Big Sky MT real estate speculation, Broadcast journalist, Chet Huntley aptly gathered capital  investors, among them Montana Power, Northwest Airlines, Chrysler, and Burlington Northern.
Huntley also applied for financial assistance from the State of Montana, the US Federal Government, and individual Congressional members. Flying the state, he pitched his idea to small town farmers and ranchers.
Not long after, he acquired approximately 11,000 acres to satisfy the land requirement for a full-fledged ski resort and year-round recreation center on the West Fork of the Gallatin River.
Big Sky Resort opened Dec. 1973. Just 3 years later, in 1976, Boyne USA Resorts bought Big Sky Resort and its vast real estate holdings from Everett Kircher.
In its September, 1973 issue, SKI Magazine announced, "Montana skiing has arrived!" And, over 30 years later, its sister publication, Skiing Magazine, ranked Big Sky Resort as the 7th BEST U.S. ski resort.
May temperatures in Big Sky average about 60 degrees F, reaching the 70's and 80's in July and August.  Average daily winter temperatures are around 25 degrees F.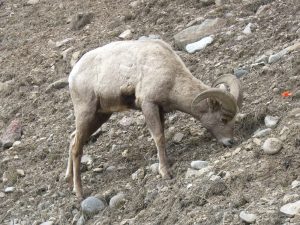 History of Big Sky Ski Resorts
1992: Moonlight Basin Ranch began as a 5,700 acre Montana golf and ski community, below Big Sky's Lone Peak.
1997: Beginning of the Yellowstone Club, a 15,200-acre, gated and private, world-class ski and golf community south of Big Sky. The YC has slopes on both Pioneer Peak, Eglise Rock, and a portion of Lone Peak's southern shoulder.
In 1995, construction of the signature Lone Peak Tram was completed. The Resort's tram carries skiers and riders to 11,150 feet, giving Big Sky Resort one of the largest total vertical drops in the US.
Early 2000, the "Summit at Big Sky" project was done, adding a new hotel at the base of Lone Peak and Andesite Mountain.
In 2001, Boyne USA began a $400 million, 10-year improvement project for Mountain Village and the ski area.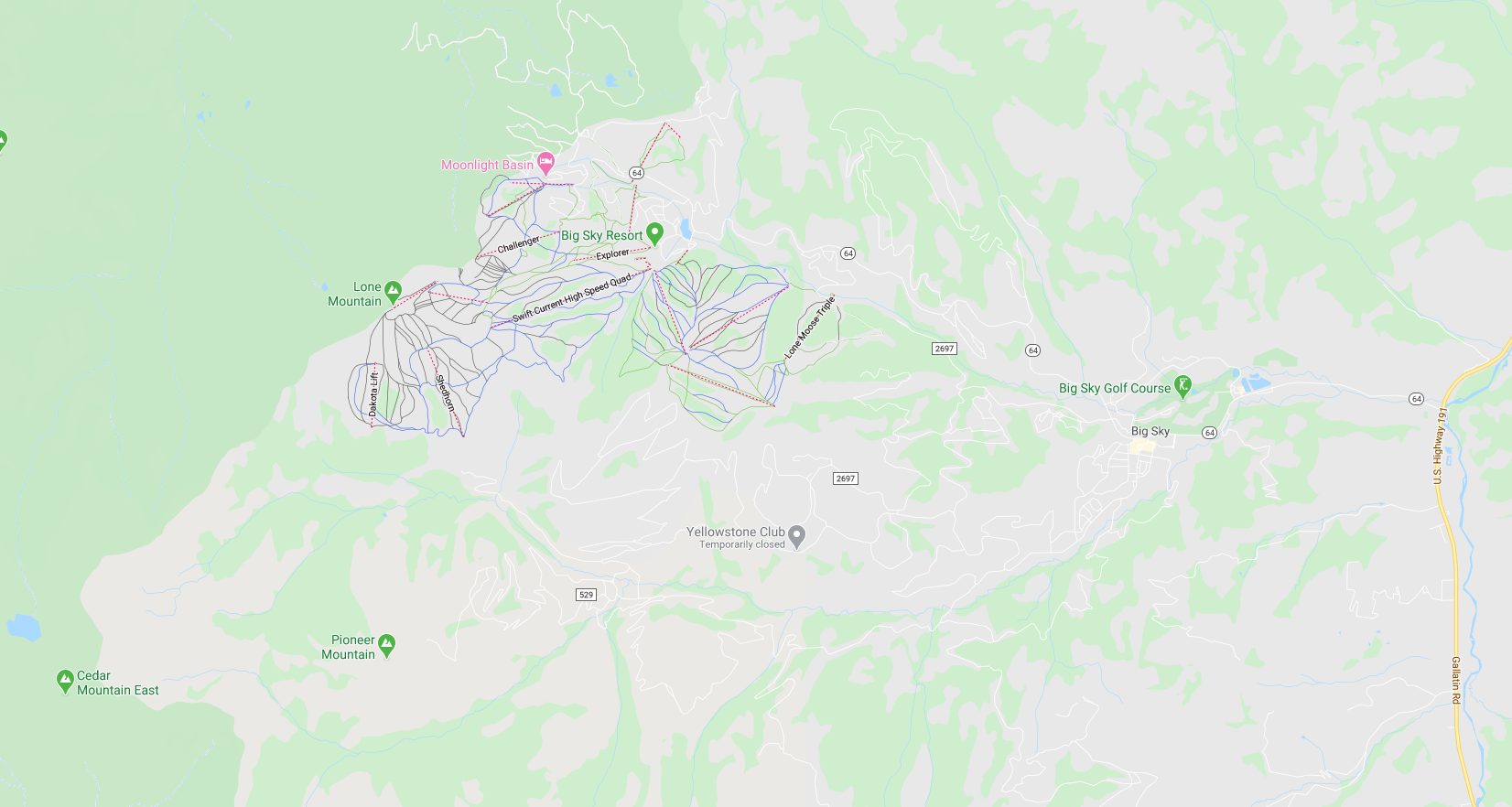 2013: Moonlight Basin ski area became a part of Big Sky Resort.
December 2018: Ramcharger 8, the first eight-seat, heated, and covered chairlift in North America, began scooting skiers and snowboarders to the top of Andesite Mountain.
August 2019: debut of Radio Frequency Identification (RFID) technology to scan skiers and snowboarders at specific mountain access points.
Big Sky Resort has the new Ramcharger 8: The first eight-seat ski resort chairlift in the US, featuring heated, ergonomically-shaped seats and weather-resisting bubbles.
Today, once a highly seasonal, "company town," Big Sky, Montana has become a year-round, recreational destination community, home to approximately 2800 residents, over 350 Chamber of Commerce members; 2 major downhill ski areas, many ski clubs like, Yellowstone Club and Spanish Peaks Mountain Club (formally known as The Club at Spanish Peaks), and world-class cross-country ski trails like those at Lone Mountain Ranch.
The region is now home to world-class Montana recreation: fly fishing, hunting, golfing, horseback riding, rafting, climbing, snowboarding, skiing, hiking, camping, and a host of other various recreational opportunities.
Big Sky real estate, with its unique, world-class luxury ski homes, commercial properties, condos and townhouses, mountain ranches, and pristine land, is growing quickly, and incorporation of the town is but a few years away.