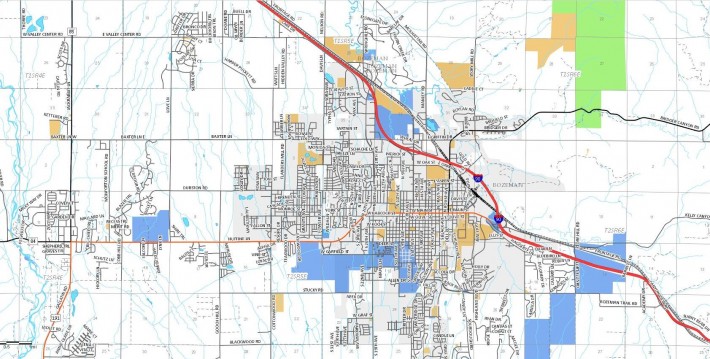 Bozeman Subdivisions

and Neighborhoods: Residential, Condo, Town-Home and Luxury Home Subdivisions in Bozeman, MT – Bozeman Neighborhoods Downtown or Out-Of-Town – Bozeman Street Maps – Bozeman Zoning Districts – Updated Bozeman Flood Plain Map
Popular Bozeman Subdivisions
Luxury subdivision, south of Bozeman, Montana, Green Hills Ranch is nestled against the Gallatin foothills. Luxury homes are set on one-acre lots, with excellent views, hiking trails, and easy access to Bozeman and Big Sky.
Black Bull Bozeman, is a complete golf community of Bozeman luxury real estate on the west side. Luxury home lots, excellent mountain views, spectacular golfing, quick access to the Bozeman region: Big Sky skiing, shopping, restaurants, Bozeman's airport, Bridger Bowl skiing, multiple forms of Bozeman recreation.
Triple Tree Ranch is one of the premiere Bozeman subdivisions. Set on a large, high plateau, many Triple Tree Ranch luxury homes look west across the Gallatin Valley and north toward the Bridger Range; the views are spectacular! Triple Tree, a premiere, luxury Bozeman subdivision, is close to Montana State University (MSU), Deaconess Hospital, downtown Bozeman, hiking, mountain biking, skiing, schools, shopping, and, perhaps, most importantly, nestled against the mountains for those demanding the perfect, peaceful, Bozeman, Montana setting.
Harvest Creek Subdivision is a residential Bozeman housing development with protective covenants and architectural guidelines,. Harvest Creek lies on the northwest side of Bozeman and offers Bridger Mountain views, well-kept yards, handsome craftsman-style homes, attractive landscaping, uncluttered streets, two open-space parks, walking/hiking trails, a playground, and a basketball court.
Painted Hills Subdivision offers large lots with excellent landscaping, awesome mountain views, and recreation. Painted Hills is just about the perfect spot for access to everything Bozeman has to offer: proximity to downtown Bozeman, 3.5 miles; the Gallatin Mountains, 4 miles; the High School, 5 miles; Montana State University (MSU), 3 miles; the Hospital, 2 miles; Bridger Bowl skiing, 21 miles.
Loyal Gardens Subdivision offers affordable lots in a beautiful setting, close to town, recreation, schools, shopping. Build your custom Bozeman home in Loyal Gardens.
Interested in luxury homes, lush meadows, abundant trees, proximity to Bozeman, rural feeling, large lots, mountain views? Think Manley Meadows…
---
Additional Bozeman Subdivisions, Bozeman Neighborhoods, Residential Housing Developments, Town House Developments, Condominium (Condo) Communities, Bozeman Luxury Homes Subdivisions Listed Below:
Alder Creek
Arnold Bridger Hills
Arrowleaf Hills Subdivision
Autumn Ridge
Baxter Creek
Baxter Meadows
Beall's 3rd Addition
Bear Creek
Beattys Sub
Black Bull
Brentwood Subdivision
Bridger Canyon
Bridger Creek
Cameron Bridge
Cattail Creek
Cottonwood
Downtown
Durston Meadows
Eagle Rock
East Bozeman
Elk Bugle
Elk Grove
Frontage Road
Gallatin Gateway
Gallatin Heights
Garden Valley Estates
Gardiner Park
Glenwood Meadows Condos
Grafs Subdivision
Greenhills Ranch
Hardin Subdivision
Harpers Addition
Harvest Creek
Headlands
Heritage Condos
Hillside Tracts
Historic Bostwick Homestead
Hyalite Foothills
Hyalite View Estates
Knolls
Ladigo Ranch
Laurel Glen
Loyal Garden
Main Street
Meadow Creek
Meadowbrook
Middle Creek Subdivision
Minor Subdivision
Mount Ellis Meadows
Mountain View
Mountain View Sub Phase 7
Mystic Heights Subdivision
Normandy
North Bozeman
North Ridge Ranch
North Star
Northeast Bozeman
Oak Springs
Outlaw Subdivision
Painted Hills
Park Addition
Parkway Plaza
Pine Buttes Trail
Pineview Subdivision
Ranch Subdivision
Richards Subdivision
Riverside Addition
Riverside Greens
Riverside Manor Subdivision
Rocky Mountain Road
Saddle Peak Ranch
Sales Road
Sourdough Creek
Sourdough Ridge
South Bozeman
South Towne Square
Southwest Bozeman
Spanish Meadows
Spring Hill Park
Spring Meadows Subdivision
Springhill
Stadium Center
Staffanson Subdivision
Stoneridge
Summer Ridge Subdivision
Sundance Springs
Technology Park
The Headlands
The Legends at Bridger Creek
Trail Creek Area
Triple Tree Ranch
University Addition
Urban Villa at Cattail Creek
Valley Commons
Valley Grove
Valley Unit Addition
Valley West
Village Downtown
Walton Homestead
West Bozeman
West College Park
West Glen Subdivision
West Main
West Meadows
West Winds
Westfield Sub
Wheatland Hills
Wildflower Subdivision
Woodbridge
Woodbrook Townhomes
Woodland Park
Wylie Creek Ranch
Wylie Creek Sub
Bozeman Homeowner Associations (HOA)
BCNA
Bozeman Creek Association is divided into 5 districts and extends from the intersection of the Gallagator Trail and South Church south along Church to Kagy Boulevard, west along Kagy to South Black Street, north on South Black to Mason Avenue, across Mason and through the Langhor Gardens to the Gallagator Trail, north on the Trail to the point of origin.
CAN
Cascade Association is the area of Bozeman streets that run from Durston to Babcock and then from Ferguson Avenue to Fowler and will continue as Fowler is extended.
MarLin
Marwyn-Lindley is a small neighborhood on the nothside of Downtown Bozeman and is situated adjacent to Lindley Center and just east of Lindley Park. Marwyn-Lindley consists of 65 single-family homes of both new and long-time residents.
NHVN
Bozeman residents know New Hyalite View, located on the east side of Highland Boulevard, as the neighborhood with the "tree streets." This old Bozeman neighborhood is one of Bozeman's earliest subdivisions, featuring finger parks, a trail system, and streets lined with mature trees.
NENA
Northeast Neighborhood just north of Downtown Bozeman is known for an eclectic mix of people, houses, and Bozeman businesses. North Grand (west), East Main (south), North Broadway (east), East Oak/I-90 (north).
SCAN
South Central Association of Neighbors is situated in the heart Bozeman's historic area. SCAN boundaries extend, north to south, from Main Street to Hayes Street and from east to west, 3rd Avenue to South Black Avenue (both sides of the streets). These streets comprise the boundaries and situated in the center is the Story Mansion, a Bozeman landmark.
SENA
Southeast Neighborhood Association is characterized by quiet streets and deep setbacks. The neighborhood is bounded on the north by Kagy Boulevard, on the west by South Third Avenue, and on the east and south by Spring Creek Drive. This neighborhood footprint includes Hill Street, South Tracy Avenue south of Kagy Boulevard, Highland Court, Circle Drive, Spring Creek Drive and Westridge Drive east of South Third Avenue.