Big Sky Homes For Sale: Ski Homes
Median Sales Price, Number Homes For Sale, Days On Market – Big Sky, Montana Housing Market
| | | |
| --- | --- | --- |
| SALES PRICE | MEDIAN PRICE | CLOSED SALES |
| Q4 2022 | $4,089,004 | 74 |
| Q3 2022 | $3,343,078 | 82 |
| Q2 2022 | $3,500,000 | 100 |
| Q1 2022 | $2,474,431 | 139 |
| Q4 2021 | $3,375,000 | 110 |
Looking Back At The Big Sky Market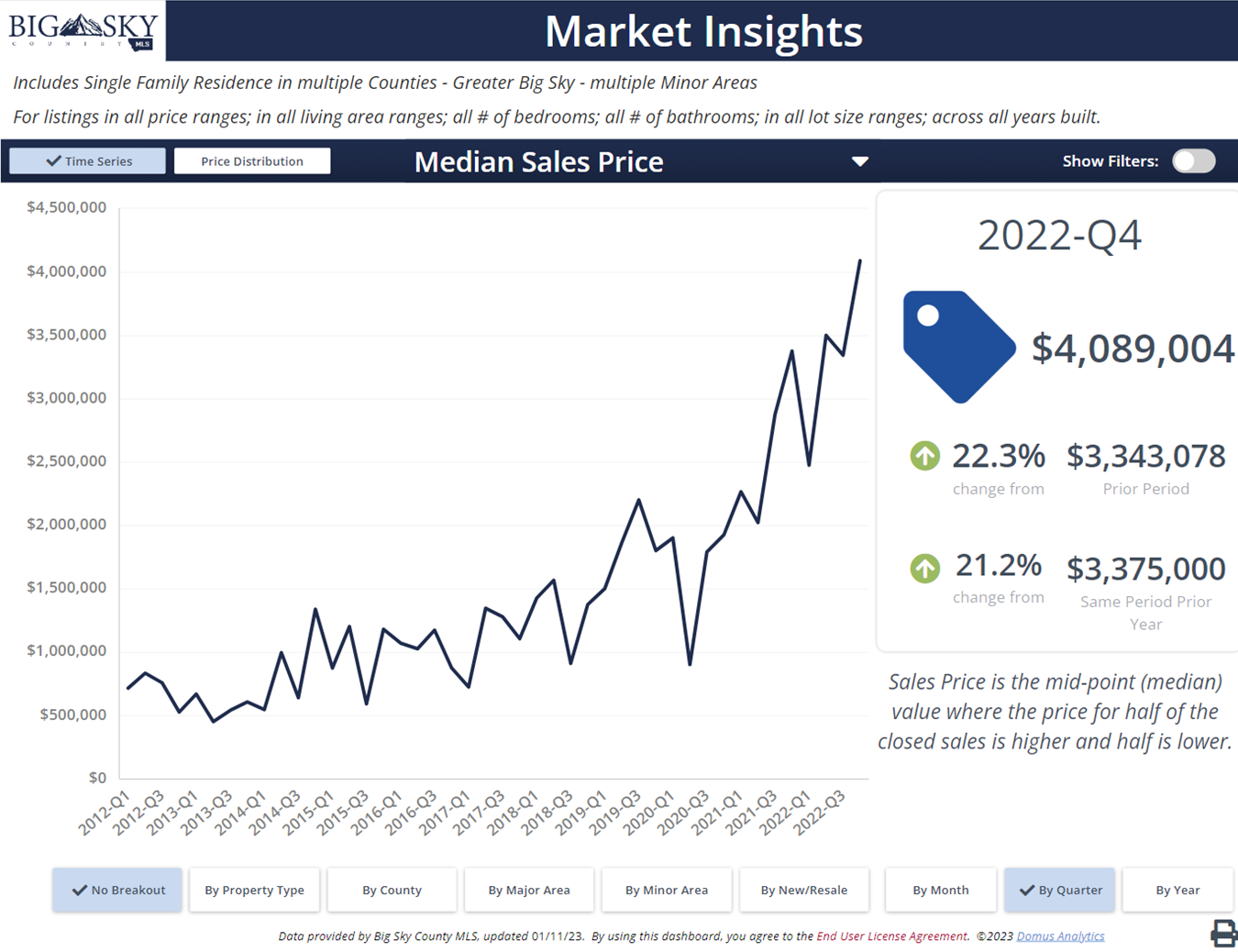 Chart 1: Looking from April 2021's price of $1,987,500 to December 2021's price of $3,000,000, Big Sky homes increased ⇑ $1,012,500 or ⇑ 51% to the end of 2021. 
Covid-19, construction materials inflation, labor shortages, and low inventory were the major drivers of price increases in Big Sky in 2020 and 2021.
In 2022, the data suggested demand and prices for Big Sky homes would continue to rise in 2022.
Chart 2: For years, the number of Big Sky homes for sale dropped until turning upward in October 2019, topping out at 71 in July 2020.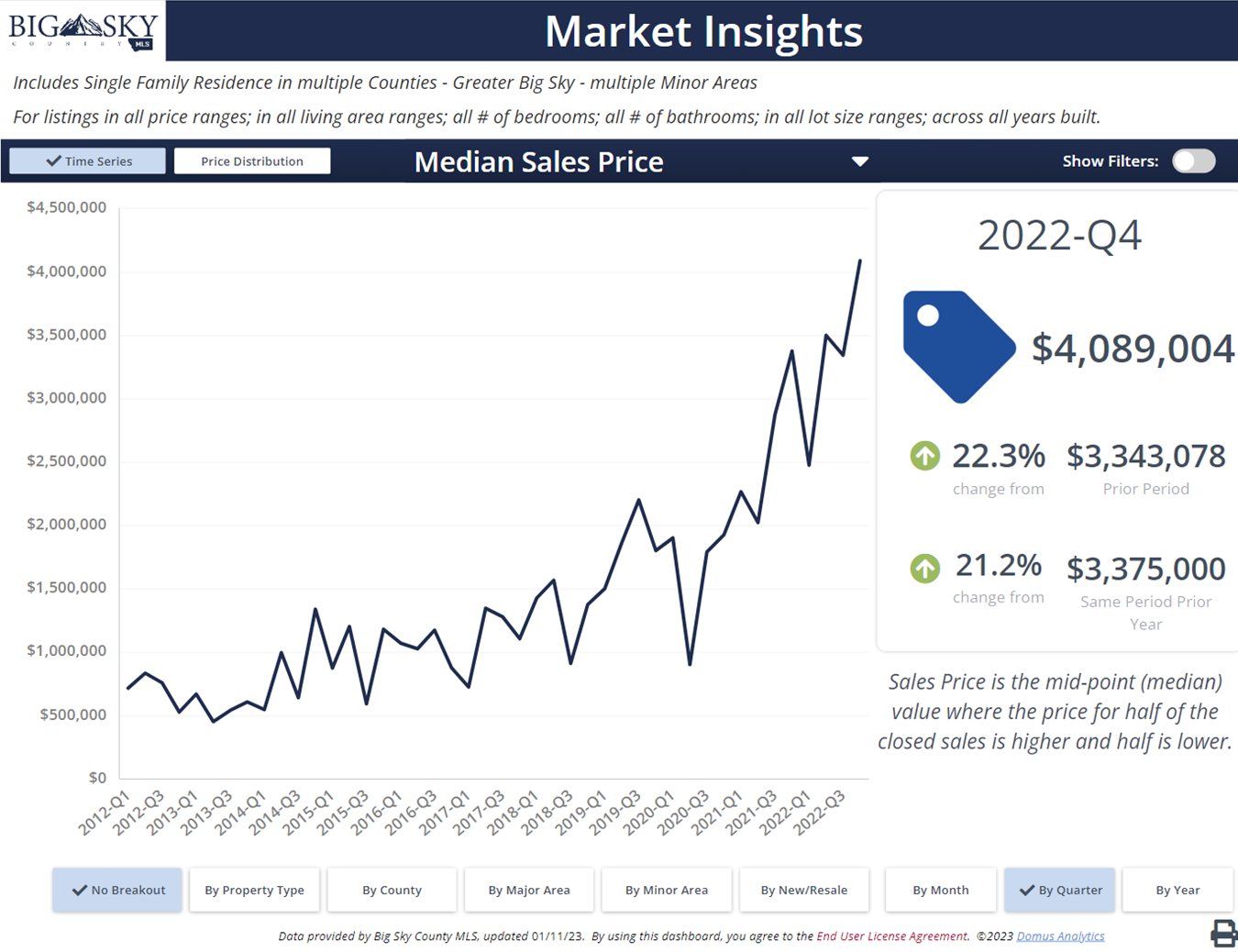 The number of Big Sky homes for sale in late Q4 2021 continued dropping.
Chart 3: From July 2017, the duration of time–average days on market–had decreased for a Big Sky home, dropping from 247 days .
(Not charted): Since July 2020, when month's supply of  homes was 9.9 months, this number had been declining.
Determining Absorption Rate in Real Estate Using Average Days On Market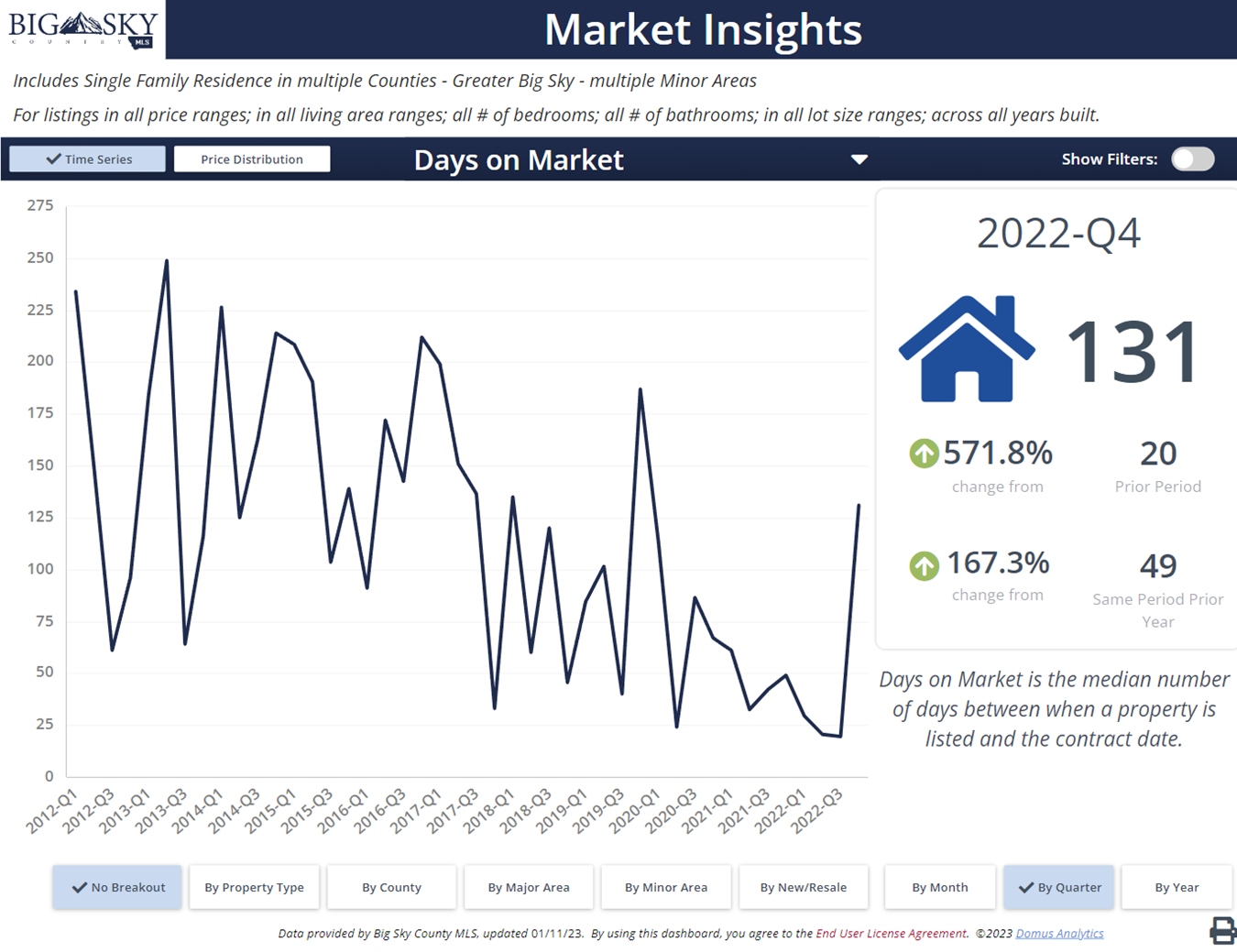 Absorption Rate helps determine how long it may take a type of property to sell in a particular area and in a specific time range. 
Average days on market (chart 3) will generally decrease as the Absorption Rate (AR) increases.
This AR is determined by dividing the number of active homes for sale in a given month by the number of homes sold in a given month.
A rate above ~18-20% suggests a seller's market and a rate below ~15-17% signals a buyer's market.
Absorption Rate = Active Listings/Sold Listings
---
 LISTINGS IN OTHER SOUTHWEST MONTANA CITIES: BOZEMAN REAL ESTATE LISTINGS – BELGRADE MT REAL ESTATE LISTINGS – BIG SKY REAL ESTATE LISTINGS – GALLATIN GATEWAY MONTANA REAL ESTATE LISTINGS – LIVINGSTON MONTANA REAL ESTATE LISTINGS – MANHATTAN MT REAL ESTATE LISTINGS – THREE FORKS MONTANA REAL ESTATE LISTINGS – BRIDGER CANYON REAL ESTATE JACKSON CREEK HOMES
Taunya Fagan, Big Sky Real Estate – Boutique Luxury @ ESTATE House, 3960 Valley Commons Drive, Suite 1, Bozeman, MT 59718 – Call 406.579.9683