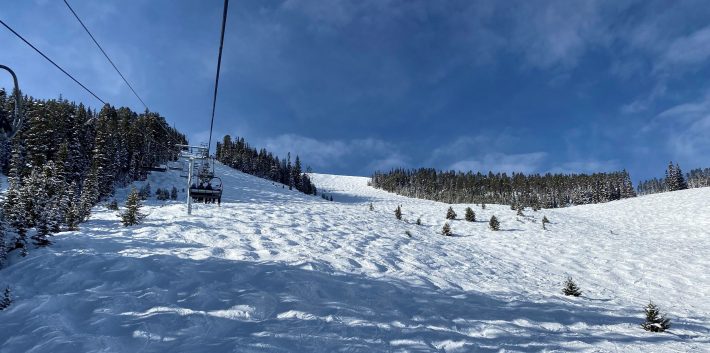 Big Sky Condos For Sale – Luxury Townhomes
Big Sky Luxury Condominiums and Townhouses For Sale – Golf – Slope-Side – Ski-In-Ski-Out
---
Big Sky Condo and Townhouse Median Sales Price History, 2013 to 2020 – Comparing Month-to-Month With Year-to-Year Data: Do's and Don'ts.
Sales Price Data Comparison (Chart 1):

Month-to-Month
When viewed on a month-to-month frequency (chart 1), fluctuations in median sales prices for Big Sky condos are dramatic. Using month-to-month data to assess whether or not it's wise to sell or buy a Big Sky condo (or any Big Sky real estate, for that matter) is unwise.
For instance: If in July 2019 you had tracked the progression of median condo prices in Big Sky by the month-to-month frequency (chart 1) for the previous 6 years, you'd have deceived yourself if you had concluded that from Q1 2013 into Q2 2019, median condo prices had increased more than 400% (let's sell!), rising from about $200,000 in early 2013 to almost $900,000 in July 2019.
If you had purchased then, you may have panicked when median prices began falling in September 2019, continuing into early 2020, declining almost 300% ('should'a waited/let's buy!) by the end of 2019!
Don't be seduced by the drama in Chart 1.
Sales Price Data Comparison (Chart 2): Year-to-Year
Viewed on a year-to-year frequency (aka twelve-month), chart 2's graph displays less dramatic but more logical data to use in analyzing sales price variations when buying or selling your Big Sky condo:
Looking at median condo prices based upon the more realistic year-to-year perspective (Chart 2), sales price fluctuations do not look as pronounced as those done month-to-month, but, nonetheless, as indicated by BOTH charts, during the past 7 years median condo prices in Big Sky HAVE increased dramatically…by around 270% as viewed from the reasonable year-to-year perspective!
And from a year-over-year analysis, December 2019's median price of $487,000 rose roughly 8% above the December 2018 median price of $450,500, indicating Big Sky condo median sales prices continue to climb.
Consequently, a year-to-year data perspective is perhaps the most reasonable and logical perspective to consider when looking at sales price trends from either a buyer or a seller position.
Interestingly, the greatest one-month percentage drop in median sales prices in the last 7 years (via the year-to-year perspective) was recently–between November and December 2019–when median sales prices fell about 9%, and though you shouldn't be fooled by short-term data, long-term data from both charts suggest it still may be a good time to get into your Big Sky condo!
It will be interesting to see how this median sales price trend continues through election year 2020.