Bozeman Downtown Past History
Historical buildings in downtown Bozeman include the striking, castellated Gothic, old Gallatin County jail; the Carnegie Library, built between 1902 and 1903, in the Classical Revival mode; and the 1915, neoclassical-styled post office, all of which have been replaced with private businesses.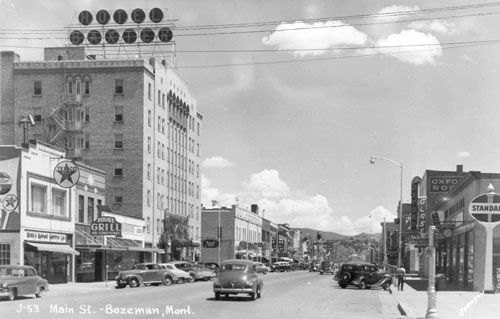 On both the west and east ends of Bozeman's Main Street, like bulwarks, stand two tall buildings, the Baxter Hotel (west-side), designed in the Renaissance Revival manner and the large, chunky form of the Bozeman Block (east-side), designed in the Victorian Romanesque genre.
In-between the east and west sides of downtown Bozeman stand two more historical buildings, the Union Hall, a long-gone, Bozeman brewery, constructed in the 1880s, during Bozeman's boom and following the entrance of the Northern Pacific Railroad to the region; the other downtown Bozeman property, the Ellen Theatre, a 1920's Beaux Arts design, configured for, at that time, small, post-WWI, towns like Bozeman. More downtown Bozeman history.