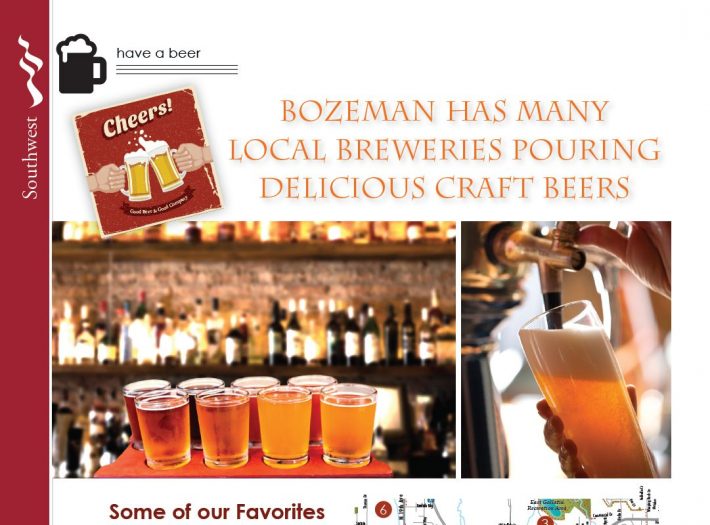 Bozeman Breweries – Montana Beer History: Brewing, Craft-Brewers, Microbreweries
Bozeman's First Craft Beer Week Was May 2017, Organized by Fermentana, at Bozeman's MAP Brewery
Beginnings, Montana Beer History Brewers: First named "Thorn-Smith Brewery" and then renamed "Virginia Brewery," Montana's first craft brewing industry began in Virginia City, Montana Territory in 1863–around the middle of the Civil War–by Thomas Smith, Christian Ritcher, and Henry Gilbert.
That same year–1863–just after the invention of the refrigerator in 1860, America produced 1,765,827 barrels of beer.
(In Bozeman, beer-making history began in 1867 by German immigrants, Jacob Spieth and Charles Krug. (Now the new Union Hall Brewery, Bozeman)
According to Michael Fox, history curator at Bozeman's Museum of the Rockies,
"Brewers and breweries were some of the earliest community-building operations in Montana. Breweries were pretty much one of the first things built, usually before the church, in fact."
According to Steve Losar, professor of anthropology at Salish Kootenai College, owner of Polson's beer museum, and a man steeped in Montana beer history,
"Having a brewery meant you had a stable town. It was part of the economic fabric and was tied to industries like mining and logging that produced thirsty kinfolk."
More Montana Breweries Below
At that time (and to this day) Southwest Montana's Gallatin Valley was home to some of the West's biggest malt growers; in fact, the Valley, especially the city of Manhattan, Montana, was considered the "Egypt of the West," emphasizing its grain-growing prowess.
In late 2018, Montana craft breweries produced approximately 18,500 barrels of beer and employed 2732 people. In 2017, Brewers used over 7,000,000 pounds of malt per year and barley acreage was around 940,000 acres, ranking the state second in the nation.
Today, in 2019, Montana's number of craft breweries is around 84, and together, they comprise one of Montana's fastest growing manufacturing divisions. According to the Montana Brewers Association, Montana ranks second in the US for breweries per capita; Vermont ranks first, Maine ranks 3rd.
According to a 2016 BBER research report, between 2010 and 2015, craft beer production in Montana increased by 87 percent, sales increased by 111 percent, and employment increased by 204 percent.
And, in late 2018, Montana breweries directly and indirectly employed more than 3000, had an annual economic impact of over $442 million, and sold their products to more than 120 million people.
Story, copyright 2016-2019, Brett Fagan
---
List of all Montana Breweries in 2019 is now over 70 – Best List and Guide to All Montana Breweries – 
Belgrade, Montana Beer-Makers
Madison River Brewing
20900 I-90 Frontage
PO Box 1037
Belgrade, MT 59714
Telephone: 406-388-0322
Brewer/Owner: Howard McMurry
madisonriverbrewing.com
Belt, Montana Brewers
Harvest Moon Brewery
7 Fifth Street South
PO Box 510
Belt, MT 59412
Telephone: 406-277-3188
Owners: Stan Guedesse, John Ballantyne
harvestmoonbrew.com
Big Sky, Montana Breweries
Beehive Basin Brewery
245 Town Center Dr.
Big Sky, MT 59716
Telephone: 303-328-7338
Lone Peak Brewery
48 Market Place
PO Box 161773
Big Sky, MT 59716
Telephone: 406-995-3939
Brewer/Owner: Steve Nordahl
Bigfork, Montana Brewers
Flathead Lake Brewing
116 Holt Dr., Ste. A
Bigfork, MT 59911
Telephone: 406-837-2004
Brewer: Tim Jacoby
flatheadlakebrewing.com
Flathead Lake Brewing – Woods Bay
26008 East Lake Shore Rte.
Bigfork, MT 59911
Telephone: 406-837-0353
Brewer: Tim Jacoby
flatheadlakebrewing.com
Billings, Montana Brewers
Canyon Creek Brewing
3060 Gabel Road
Billings, MT 59102
Brewer: Ron Kalvig
canyoncreekbrewing.com
Angry Hank's
2405 1st Avenue North
Billings, MT 59101
Telephone: 406-252-3370
Owner: Tim Mohr
Himmelberger Brewing
3008 First Avenue North
Billings, MT 59101
Telephone: 406-252-1200
Brewer/Owner: Dave Himmelberger
Carter's Brewing
2526 Montana Avenue
Billings, MT 59101
Telephone: 406-252-0663
Brewer/Owner: Michael Uhrich
cartersbrewing.com
Montana Brewing Company
113 North Broadway
Billings, MT 59101
Telephone: 406-252-9200
Brewer: Evan Taylor
montanabrewingcompany.com
Uberbrew
2305 Montana Ave.
Billings, MT 59101
Telephone: 406-534-6960
Brewer: Mark Hastings
Yellowstone Valley Brewing
2123-B First Avenue North
Billings, MT 59101
Telephone: 406-245-0918
Brewer: George Moncure
yellowstonevalleybrew.com
Black Eagle, Montana Brew-Makers:
Black Eagle Brewery
1602 25th Ave. NE (next to Pit Stop Tavern)
Black Eagle, MT 59414
Telephone: 406-315-3082
Brewer: Jason Lehman
Bozeman, Montana Breweries
406 Brewing Company
101 East Oak Street, Suite D
Bozeman, MT 59715
Telephone: 406-585-3745
Brewer: Matt Muth
406brewing.com
Bozeman Brewing
504 North Broadway
Bozeman, MT 59715
Telephone: 406-585-9142
Brewers: Todd Scott, Bill Hyland
bozemanbrewing.com
Bozeman Tap Room
321 E. Mendenhall St.
Bozeman, MT 59715
Telephone: 406-577-2337
bozemantaproom.com
Bridger Brewing Company
1609 South 11th Avenue
Bozeman, MT 59715
Telephone: 406-587-2124
Owner: David Breck
bridgerbrewing.com
Bunk House Brewery
1216 W Lincoln St.
Bozeman, MT 59715
Brewer: Andrew Stohlmann
Telephone: 406-577-2074
facebook.com/thebunkhousebrewery
MAP Brewing Company
510 Manley
Bozeman, MT 59715
Telephone: 406-587-4070
mapbrewing.com
Mountains Walking Brewery
808 E Avocado St.
Bozeman, MT 59715
Brewer: Kevin Paquette
Telephone: 406-219-3480
mountainswalking.com
Nordic Brew Works
730 Boardwalk Ave. Suite 1B
Bozeman, MT 59715
Brewer:
Phone: 406-414-0730
nordicbrewworks.com
Outlaw Brewing
2876 N. 27th St.
Bozeman, MT 59715
Telephone: 406-388-9182
Brewer: Todd Hough
outlaw-brewing.com
White Dog Brewing
121 W. Main St. Unit B
Bozeman, MT 59715
Telephone: 406-992-5798
whitedogbrewing.com
Union Hall Brewery
121 West Main Street, Ste B,
Bozeman, MT, 59715
unionhallbrewery.com
Butte, Montana
Quarry Brewing
124 W. Broadway Street
Butte, MT 59701
Telephone: 406-723-0245
Brewer: Chuck Schnabel
quarrybrewing.net
Muddy Creek Brewery
2 E. Galena St.
Butte, MT 59701
Telephone: 406-299-3645
Brewer: Gregg Wigen
MuddyCreekBrewery.com
Butte Brewing Company
480 E. Galena St.
Butte, MT
Telephone: 406-494-7710
Owners: Tony and Teresa Olson
buttebrewing.com
CopperWild Brewing Company
43 E. Park St.
Butte, MT 59701
Telephone: 406-782-1700
copperwildbrewing.com
Columbia Falls, Montana
Backslope Brewing Company
1107 9th St. W. (Highway 2)
Columbia Falls, MT 59912
Brewers: Darin Fisher
Cut Bank, Montana
Cut Bank Creek Brewing
315 Railroad Street
Cut Bank, MT 59427
406-229-0298
cutbankcreekbrewery.com
Darby, Montana
Bandit Brewing Company
308 E. Tanner Rd.
Darby, MT 59829
Deer Lodge, Montana
Elk Ridge Brewing Company
3320 Main St.
Deer Lodge, MT 59722
Dillon, Montana
Beaverhead Brewing Company
218 S. Montana St.
Dillon, MT 59725
beaverheadbeer.com
Eureka, Montana
HA Brewing
2525 Grave Creek Road
Eureka, MT 59917
Telephone: 406-889-3950
Owner/Brewer: Chris Neil
homesteadales.com
Glasgow, Montana
Busted Knuckle Brewery
303 1st Ave. S.
Glasgow, MT 59230
Telephone: 406-228-2277
Great Falls, Montana
Bowser Brewing
1826 Tenth Avenue South
Great Falls, MT 59405
Telephone: 406-315-1340
Owner: Evan Bowser
Brewer: Dennis Holland
bowserbrew.com
Jeremiah Johnson Brewing Co.
600 3rd Avenue S.
Great Falls, MT 59405
Telephone: Unlisted
jeremiahjohnsonbrewing.com
Mighty Mo Brewing
412 Central Avenue
Great Falls, MT 59405
Telephone: 406-952-0342
The Front Brewing Company
215 3rd Street NW
Great Falls, MT 59405
Telephone: 406-727-3947
thefrontbrewing.com
Hamilton, Montana
Bitter Root Brewing
101 Marcus Street
Hamilton, MT 59840
Telephone: 406-363-7468
bitterrootbrewing.com
Higherground Brewing Co.
518 N. First Street
Hamilton, MT 59840
Owners/Brewers: Jasper Miller, Fenn Nelson
highergroundbrewery.com
Havre, Montana
Triple Dog Brewing Co.
675 1st St. West
Havre, MT 59501
Helena, Montana
Blackfoot River Brewing
66 S. Park Avenue
Helena, MT 59601
Telephone: 406-449-3005
Brewers: Tim Chisman, Becky Molm
blackfootriverbrewing.com
Lewis & Clark Brewing
1517 Dodge Avenue
Helena, MT 59601
Telephone: 406-442-5960
Brewer: Sean Tobin
Ten Mile Creek Brewery
46 N. Last Chance Gulch
Helena, MT 59601
Telephone: 406-231-0575
Kalispell, Montana
Kalispell Brewing Company
412 Main Street
Kalispell, MT 59901
Telephone: 406-270-1958
Owners: Maggie Doherty and Cole Schneider
kalispellbrewing.com
Lakeside, Montana
Tamarack Brewing Company Alehouse and Grill
105 Blacktail Road #1
Lakeside, MT 59922
Telephone: 406-844-0244
Brewer: Craig Koontz
tamarackbrewing.com
Laurel, Montana
High Plains Brewing
601 East Main Street
Laurel, MT 59044
Telephone: 406-633-4594
Brewer: Dave Bequette
Libby, Montana
Cabinet Mountain Brewing Company
206 Mineral Ave.
Libby, MT 59923
Telephone: 406-293-2739
Livingston, Montana
Neptune's Brewery
119 North L Street
Livingston, MT 59047
Telephone: 406-222-7837
Brewer: William Taylor
Katabatic Brewing Company
114 W. Park St.
Livingston, MT 59047
Owners: Brice Jones, LaNette Diaz
katabaticbrewing.blogspot.com
Lolo, Montana
Lolo Peak Brewery
6201 Brewery Way
Lolo, MT 59847
Telephone: 406-600-9688
lolopeakbrewery.com
Missoula, Montana
Bayern Brewing
1507 Montana Street
Missoula, MT 59801
Telephone: 406-721-1482
Owner: Juergen Knoeller
Brewer: Thorsten Geuer
bayernbrewery.com
Imagine Nation Brewing
1151 W. Broadway
Missoula, MT 59801
Telephone: 406-459-8993
Owners: Robert Rivers, Fernanda Menna Barreto Krum
Big Sky Brewing
5417 Trumpeter Way
PO Box 17170
Missoula, MT 59808
Telephone: 406-549-2777
Toll-Free: 1-800-559-2774
Brewer: Matt Long
Draught Works
915 Toole Avenue
Missoula, MT 59802
Telephone: 406-541-1592
Brewers/Owners: Jeff Grant, Paul Marshall
Great Burn Brewing
2230 MacDonald Avenue
Missoula, MT 59801
Owners: Mike Howard, Diana Garrett, Greg Howard
Kettlehouse Brewery — Northside
313 North First Street West
Missoula, MT 59802
Telephone: 406-728-1660
Kettlehouse Brewing
602 Myrtle Street
Missoula, MT 59801
Telephone: 406-728-1660
Owner: Tim O'Leary
Missoula Brewing Company
200 International Dr
Missoula, MT 59808
Owner: Bob & Shannon Lukes
Philipsburg, Montana
Philipsburg Brewing Company
101 West Broadway
Philipsburg, MT 59858
Telephone: 406-859-2739 (BREW)
Brewer: Mike Elliot
Polson, Montana
Glacier Brewing
6 Tenth Avenue East
Polson, MT 59860
Telephone: 406-883-2595
Owner/Brewer: David Ayers
glacierbrewing.com
Red Lodge, Montana
Red Lodge Ales
1445 North Broadway
PO Box 2278
Red Lodg,e MT 59068
Telephone: 406-446-4607
Brewers: Sam Hoffmann, Justin Moore
Sidney, Montana
Meadowlark Brewing Company
119 S. Central Avenue
Sidney, MT
Owner: Travis Peterson
meadowlarkbrewing.blogspot.com
Stevensville, Montana
Blacksmith Brewing Company
114 West Main Street
Stevensville, MT 59870
Telephone: 406-777-0680
blacksmithbrewing.com
Wildwood Brewing
4018 Highway 93 North
Stevensville, MT 59870
Telephone: 406-777-2855
Owner/Brewer: Jim Lueders
wildwoodbrewing.com
Superior, Montana
Dunluce Brewing
Superior, MT
Owner/Brewer: Adam Hauge
dunlucebrewing.com
Whitefish, Montana
Bonsai Brewing
549 Wisconsin Ave.
Whitefish, MT 59937
Owner/Brewer: Graham Hart
Great Northern Brewing
2 Central Avenue
Whitefish, MT 59937
Telephone: 406-863-1000
Brewer: Joe Barberis
greatnorthernbrewing.com
Wibaux, Montana
Beaver Creek Brewery
104 Orgain Avenue West
PO Box 196
Wibaux, MT 59353
Telephone: 406-795-2337
Brewer: Sandon Stinnett
Wolf Point, Montana
Missouri Breaks Brewing
326 Main Street
PO Box 654
Wolf Point, MT 59201
Telephone: 406-653-1467
missouribreaksbrewing.com
Information for this piece was gathered from these people and sources: Steve Losar, Colin B. Sorenson, Todd A. Morgan, Shannon Furniss, Gail Schontzler-Bozeman Daily Chronicle, Colin Sorenson-University of Montana, Montana Beer Finders, beerhistory.com, Billings Gazette, and others.