Bozeman Energy Efficient Homes – Green Building Techniques
NACHI.org states that elements of an energy-efficient home include the thermal envelope "shield," foundation walls and slabs, insulation R-value, air/vapor retarders, wall and roof, windows, air sealing, controlled ventilation, heating and cooling needs.
According to PHIUS, "Passive building comprises a set of design principles used to attain a quantifiable and rigorous level of energy efficiency within a specific quantifiable comfort level."
When it comes to passive solar homes, according to Energy.gov, "A well-designed passive solar home first reduces heating and cooling loads through energy-efficiency strategies and then meets those reduced loads in whole or part with solar energy."
| | |
| --- | --- |
| FEATURES OF AN ENERGY EFFICIENT BOZEMAN HOME | BENEFITS OF AN ENERGY EFFICIENT BOZEMAN HOME |
| Properly Installed Insulation | Comfort, reduces noise |
| Air Tight Home | Eliminates drafts, ensures comfort, improved indoor air quality, keeping dust, pollen, bugs out of the living space. Save money because you're not heating and cooling the neighborhood. |
| Energy Efficient Windows | Save money, increases comfort, no fading on furnishings or carpets |
| Efficient, Correctly Sized Mechanical Equipment   | Comfort, lasts longer, save money, controls humidity. |
| Mastic Sealed Duct Work  | Comfort, healthier air, save money |
| Combustion Safety | Protects you and your family from Carbon Monoxide |
| Lighting (80% CFLs or Energy Efficient Sockets) | Save money with cutting edge technology |
| Energy-Efficient, Built In Appliances | Save money with cutting edge technology (10-50%) |
This Bozeman Energy Efficient Home's Story
A Bozeman homes builder scouted Bozeman green building opportunities, looking to construct a green home using sustainable building principles, design creativity, and master construction techniques. He chose a downtown Bozeman house, 721 S. Tracy Ave., Bozeman, MT.
Ascent Builders located an older, energy-consuming Bozeman house on the south-side, close to schools and parks, and just a few blocks from Downtown Bozeman.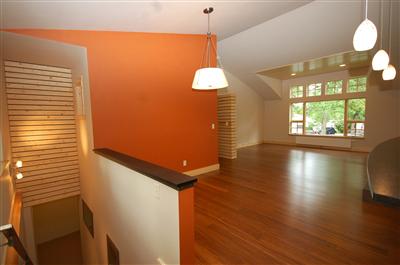 This Bozeman design/build construction firm's aim was to transform an existing, "poor-energy saving" Bozeman Home, at 721 S Tracy Avenue, Bozeman, into a healthy, energy-efficient, green Bozeman home that would be built to the city of Bozeman's strict city building codes, be inexpensive to operate, last longer, and require less maintenance than typical new Bozeman, Montana homes.
Ascent considered not only the infrastructure of this Bozeman house, but this green construction company regarded everything encompassing it, even how this Bozeman LEED home and its future occupants would relate to the Bozeman community.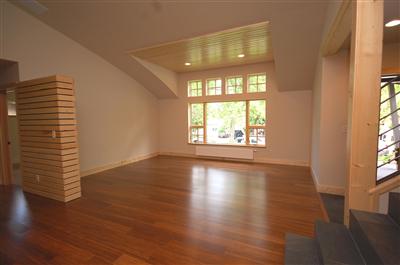 Ascent's green building goals for this prime Bozeman energy-efficient home were a combination of maximizing energy efficiency, ensuring resource conservation, and facilitating stellar interior air quality.
An Energy Efficient Bozeman Home
Northwest Energy Star Certified – 40% more efficient than current building code requires.
Exterior rigid foam insulation wrapping, eliminating heat transfer through wood and other surfaces, which cause energy-wasting "thermal bridging."
Use of high-performance Anderson Windows with a U-factor rating at or below .30, which is better than Energy Star's minimum ratings.
Increased wall and attic Insulation levels to reduce heating and cooling loads.
Blower Door Test performed to properly seal air gaps, resulting in better heating and cooling efficiency, helping to lower energy loading on the home's mechanical system.
High-efficiency heating and hot water systems, which reduce energy consumption.
Energy Star certified kitchen appliances.
Compact Fluorescent bulbs, which last longer and require less electricity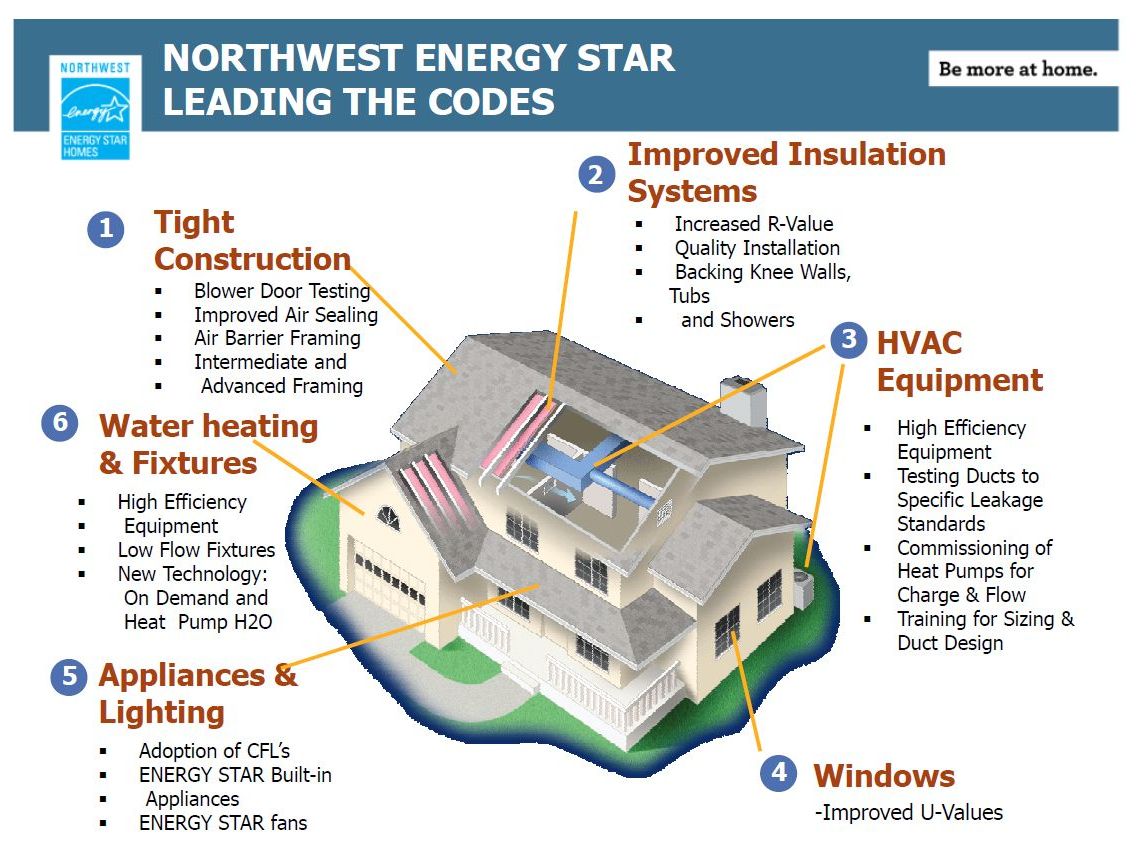 Resource Conservation Through Green Building In Bozeman
Use of Advanced Framing Techniques, reducing lumber, which increases wall cavities and insulation values.
Installation of Rain Screen Walls prior to applying siding system, allowing air flow and moisture control on the building's exterior, and creation of a drainage plane for interior condensation.
Recycling of job site waste.
Use of long lasting, low maintenance, rot and mold resistant cement fiber exterior siding.
Thorough use of engineered lumber that uses wood fiber more efficiently than solid-sawn lumber, and which is fabricated from wood species that are actively regenerated.
Water-saving low flow toilets and plumbing fixtures.
Use of sustainable, rapidly renewable materials like bamboo flooring and recycled glass tiles.
Sourcing local building materials to reduce transportation, consumption, and overseas shipping costs.
Reuse of existing walls and foundations to reduce "new" material usage.
Air Quality Of This Bozeman Home
Proper home ventilation, ensuring fresh air is cycled through the home.
Using non- or low-VOC paints adhesives and solvents, which release toxic gases.
Limited use of carpet that collects dust, dander, and other chemicals.
Proper sealing of the home's thermal envelope, eliminating mold
Advantages of Green Remodeling vs. New Construction
Remodeling uses fewer materials and requires less energy resources than does new construction, capitalizing on the materials and energy that were invested in the original home.
Remodeling protects undeveloped land, doesn't disturb drainage patterns or plant and animal communities, and doesn't require new roads, sewer lines, and costly infrastructure expenditures.
By being located in an existing community, the home's proximity to schools, recreation, stores, and services saves energy and money and reduces greenhouse gas emissions.
Replacing the older home with the newer, energy efficient version of the original home, saves overall consumption and environmental impact.
Taunya Fagan Bozeman Real Estate @ ESTATE House, REALTOR®, ABR, CRS, GRI
3960 Valley Commons Drive, Suite 1, Bozeman, Montana 59718 – Bozeman Luxury Homes Specialist – 406.579.9683