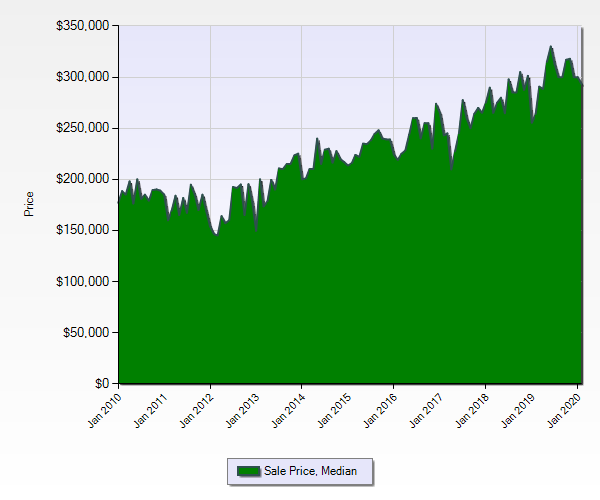 Belgrade Home Sales Report 2020 – Belgrade Real Estate For Sale – Market Trends and Forecast Updates
Belgrade Home Sales Reports: Median Sales Price History (Chart 1)
Since 2014, Belgrade median sales prices for homes have increased approximately 57% (chart 1) and the availability of Belgrade homes for sale has rebounded to 2014 numbers (chart 2).
Homes built prior to 1999 had the greatest median sales price increases in 2019 and continue to track upward in 2020.
Belgrade, MT Home Sales History (Chart 2)
The number of Belgrade homes for sale, more or less, dropped for the 3-year period, 2015 to 2018, and began rising in Q1 2018 and has continued to rise into 2020 as seen in chart 2.
Part of the rise in the number of Belgrade homes for sale is due to robust new home construction in the Belgrade, Montana area.
Belgrade, Montana Home Sales History By Property Type (Chart 3)
All Belgrade, MT residential real estate median prices continues to inch upward into 2020 primarily due to single-family home sales.
Condo and manufactured home median sales prices have remained fairly flat since Q3 2019, and townhome since Q1 2019, as indicated by Chart 3.
The "All Property Types," green line of chart 3 is explained more by chart 4's Belgrade-Bozeman median sales price comparison.
Belgrade Median Home Sale Prices, Belgrade vs Bozeman (Chart 4)
Overall the median home sales price for Belgrade flattened in Q2 2019 and stayed relatively flat Q2 through Q4 2019 and into 2020.
As observed in chart 4, Bozeman's median home sales price performed better, rising about $20,000.