EXAMPLE: Off-Grid, Energy Efficient Montana Wind, Solar-Powered Home
Montana energy efficient off-grid mountain home on a private setting and convenient to the amenities of a small city.
Gorgeous fenced and gated mountain forest setting on 30 acres with Continental Divide mountain views. NOT FOR SALE
This energy-efficient, wind and solar home, Montana green-energy home has both a fenced livestock pasture and livestock paddock; plenty of timber for firewood; a separate, heated guest house, a livestock barn, and an industrial shop. Industrial equipment can be run on this power system.
Two independent instant hot water heaters, fueled by propane, provide hot water and heat. Add to this an insulated radiant floor heating system and you're ready for the coldest Montana weather imaginable.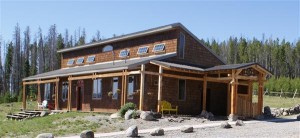 Normal winter propane usage is approximately 100 gallons per month: fill the tank in October and this may last through the winter under normal, reasonable energy use. This green home's main and second story floors are large and open enough for you to divide into more rooms and/or bedrooms.
Totally green energy with high end solar equipment, wind turbine, and propane backup system. This can either be a completely energy independent home or an owner can consider hooking into the power company grid, since the property borders Northwestern Energy power lines.
Surrounded by USFS this Montana horse property offers access to trails for hunting, hiking, horse back riding, ATV riding, snowmobiling in the winter.
With a plethora of wildlife, stunning views, and privacy, this is the perfect spot for those who love privacy, wildlife, living off the land, but who also desire proximity to all that a small Montana city offers, including businesses, public schools and colleges, arts and entertainment.
Energy System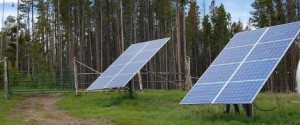 There is a 48 Volt DC power system with twenty-four, 2-volt DC "Surrette Batteries" for storage of obtained power (Guest house has 100 amp service, main house has 200 amp service). "Surrette Batteries" are the Rolls Royce of Batteries for off grid applications and are good for at least twenty years with proper maintenance.
Battery Maintenance entails keeping them dry and clean and topped with distilled water: check water level once a month in the summer and every two to three months during the winter.
The Main House can be heated with the wood fireplace, with the hot water radiators, or with the presently unhooked radiant in-floor heat system as well.
This Montana Green Energy System contains two VFX3648E Outback Inverters that convert DC voltage to AC power, one inverter for each 120 volts AC Power required: two inverters provide 240 volts AC.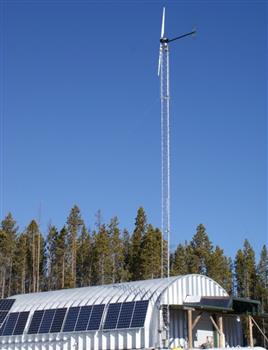 Recently, this Energy Efficient System was upgraded to four MX 60 panels to handle the energy input of the system,  comprised of 28 solar panels connected into 4 combiner panels, before it reaches the MX 60 panel boxes. Each box has separate circuit breakers for protection and separation.
The Whisper 500 DC wind turbine is connected directly through a separate control panel and then goes directly to the battery bank for direct charging since the output is 48 volts DC current.
The wind turbine is self-regulating and can withstand up to 120 mph winds; maximum output is produced at 27 mph and, with the Side-Furling Angle-Governor will curl out of the wind during extreme wind velocities.
In addition, there are two shutoff circuit breakers one inside, one outside, that will, if desired, stop the turbine rotation during severe wind conditions. There also is one heat sink that will absorb power if too much energy is produced and not needed.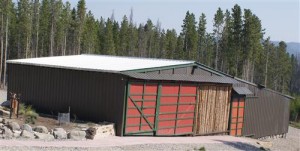 The power from the batteries is sent to a DC circuit breaker panel which combines all DC power into one location; from there the DC power goes into the main inverter and if 240 volt DC is required, the two inverters come on-line to provide required power.
From the inventors the AC power output feeds into the AC distribution panel, directing power to the required sources of use: Main House, Guest House, and Barn.
All wind and solar power is controlled by a computer programmed HUB system that monitors and directs both the DC and AC capabilities of the system, based on preset input specification fed into the HUB system (all adjustable).
Power Room
The Power Room is insulated, heated and temperature-controlled to 50 degrees F during the winter by an insulated, propane hot water system.