2021 Bozeman Fall Leaf Pickup Schedule
Specifics and dates for Bozeman's 2021 leaf cleanup
It's that time of the year again, when Bozeman's leaves begin falling.
In its attempt to keep storm drains clear, the City asks for your participation in the 2021 Bozeman fall leaf collection. Though leaves help keep our city cool in the summer and make it stunning in the fall, wet leaves can easily clog storm drains and freeze in the winter, forcing city crews to unplug frozen storm drains, taking time from performing other, essential Bozeman maintenance tasks.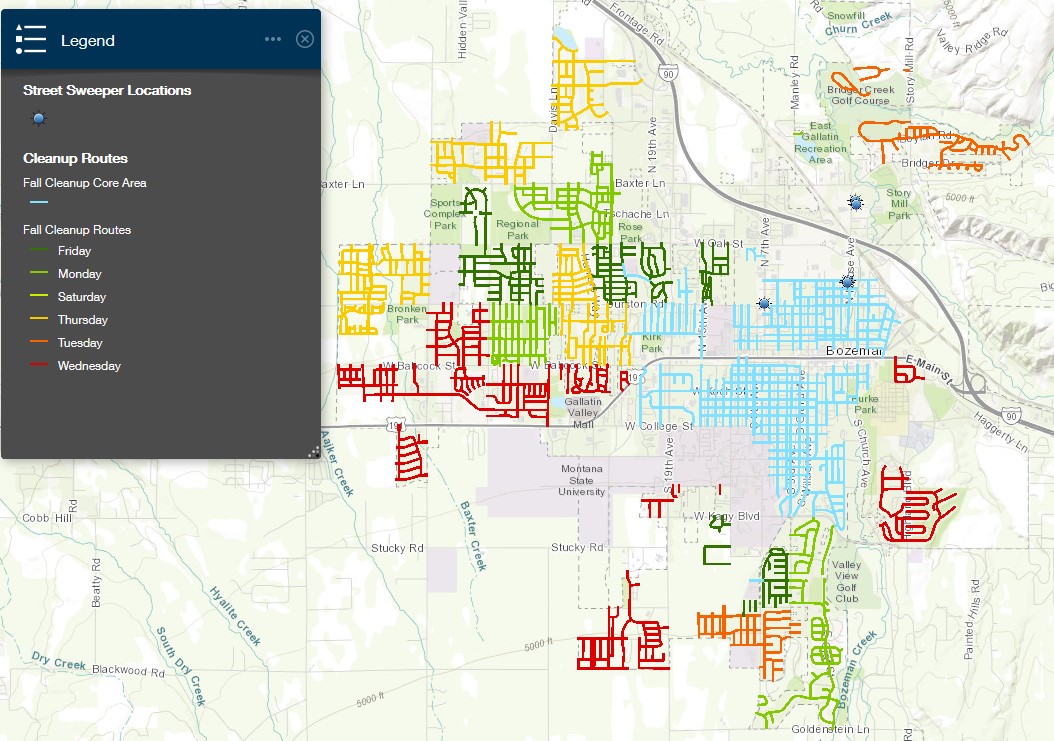 CORE
Bozeman's 2021 leaf roundup, collecting ONLY your leaves, will begin in Bozeman's scheduled "Core" areas first. "Core" is the area directly around the downtown and radiating out for a mile or so.
Though the City has yet to release the 2020 schedule, core leaf pickup will begin October 30, 2021 and run through the November 13, 2021.
SUBDIVISIONS
After finishing in the "Core" area, crews will then move to collecting in "Subdivision" areas around the city. All streets with a leaf pickup date in both "Core" and "Subdivision" areas will be posted with "Street Maintenance, No Parking Signs" a short time prior to their leaf collection dates.
Look for these signs and move your vehicle accordingly, or it may be towed so crews can collect leaves and sweep your street directly after leaf pickup. Ensure you pack your leaves into a compostable paper bag. Then drag the bag or rake the loose leaves into your street's gutter the weekend prior to your street's leaf collection day.
SCHOOLS
Bozeman fall leaf pickup day in the area around our schools is for one day only, specific date not posted at this time. Streets around some of Bozeman's schools will also be marked with "Street Maintenance, No Parking Signs." Without cars on the streets, city crews can quickly collect leaves and then sweep the streets around Irving, Emily Dickinson, Longfellow, Whittier, Morning Star, and Hawthorne Schools.
Wanna cleanup your own leaves? Bring your full, compostable leaf bags (NO other yard waste!) to 814 N. Bozeman Avenue (City Shops Complex), 406.582.3202, probably on one of these Saturdays, from 10 am to 2 pm, Saturday, October 30; Saturday, November 6, Saturday November 13.
For more information, please go to City of Bozeman Fall Leaf Pickup.