2023 Bozeman Ski Report – Where Can I Ski in Bozeman?
Bozeman Skiing & Cross Country Ski Trails & Maps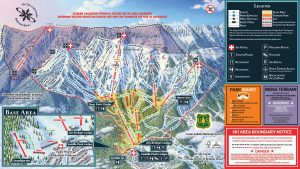 Bridger Bowl Infrastructure Updates:
Bridger Bowl Ski Patrol Expansion.
Bridger Bowl ski area completed an expansion of the "New Beginner Area.
The old, red, double Riblet Virginia City chair lift was scrapped and replaced with a triple chair lift.
The Snowflake lift was relocated, and a new warming hut was built on the area where the old lift's top terminal stood.
Also at Bridger Bowl, two moving carpets were added, the Sundog and the Flurry. A $10 ticket will be available for anyone using these two carpet lifts.
The Saddle Peak Lodge added new facilities on all 4 floors, and a Retail Shop was added in the Jim Bridger Lodge.
Bozeman's Average Snowfall ~80″ – Bridger Bowl Ski Report – Bridger Bowl Web Cam – Bozeman Ski Trail Grooming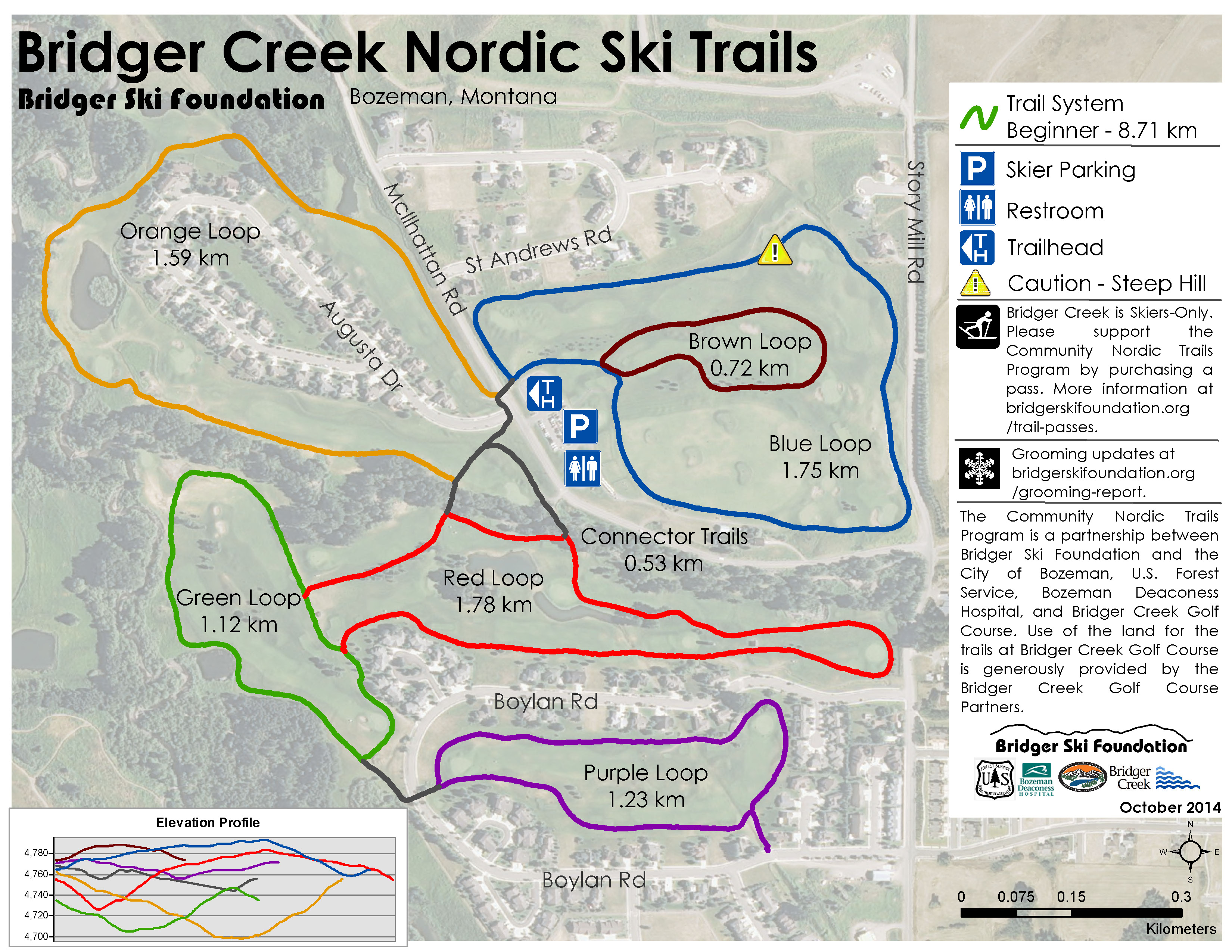 Bridger Bowl has always been a public, nonprofit community ski area. Bridger Bowl has no owners to answer to, so all Bridger Bowl skiing fees and concession proceeds are reinvested into Bridger Bowl ski area.
These funds pay for operational costs, area maintenance, and infrastructure improvements, like those noted above.
Because there are no owners or shareholders, Bridger Bowl offers high-quality skiing and snowboarding for a minimal price. And after skiing this premiere non-profit Bozeman, Montana ski area, visit Bozeman, Montana for a host of other winter activities.
Learn about Bridger's World Record Snowfall in 2003
Bozeman Cross Country Skiing 2023: Bozeman Grooming Report from Bridger Ski Foundation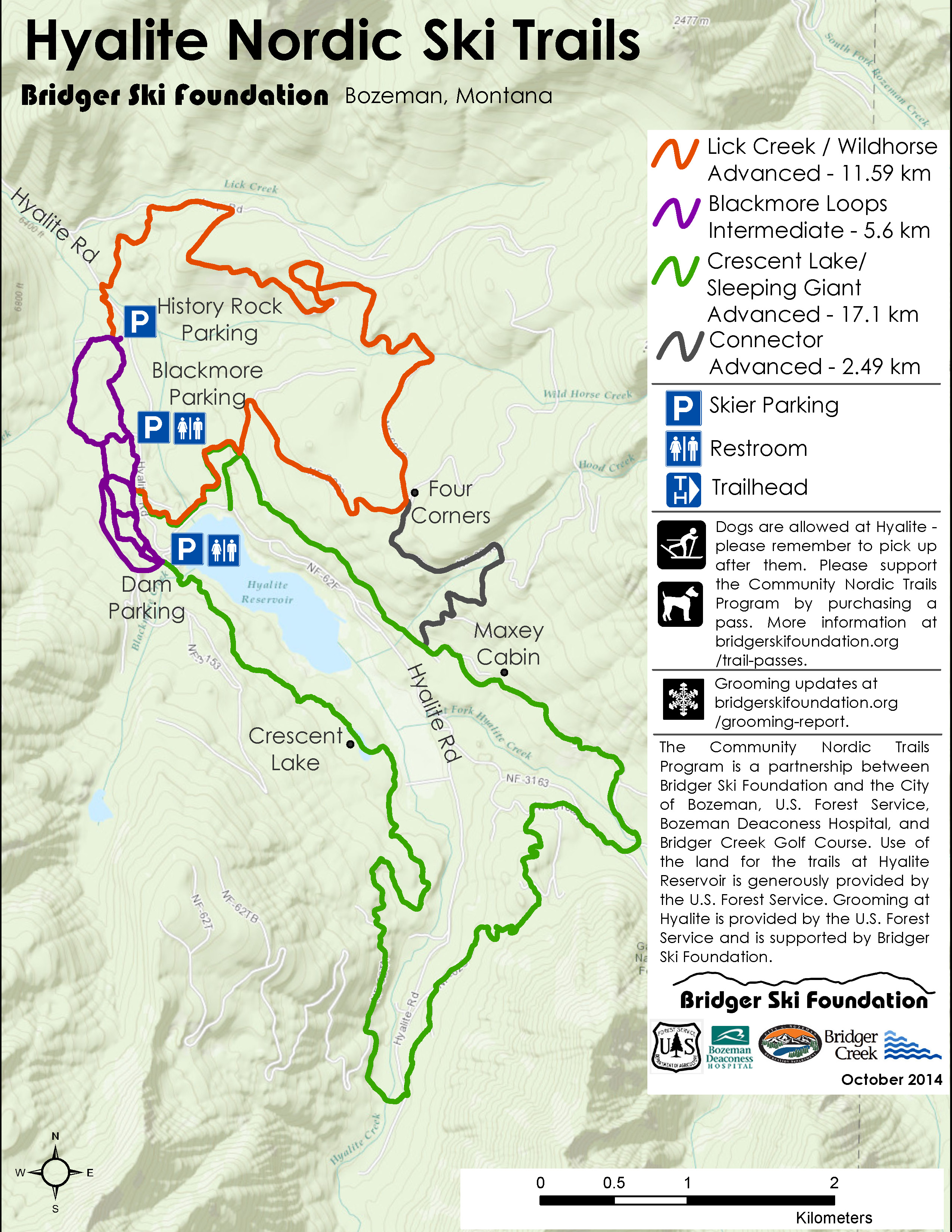 Next door to Bridger Bowl you'll find Crosscut Mountain Sports Center for Cross Country Skiing, just 16 miles northeast of Bozeman, Montana in Bridger Canyon. Crosscut Mountain Sports Center is also 90 miles north of Yellowstone National Park.
Crosscut offers some of the highest quality Nordic skiing in the United States.
Crosscut Mountain Sports Center has a 27 km scenic trail system, on both private and US Forest Service (USFS) lands, which winds through terrain well-suited to all abilities.
The trails are professionally groomed for both classic cross country skiing and skate skiing. And in the summer bring your mountain bike because Crosscut has excellent mountain biking and may continue hosting the Bash, a national mountain bike race.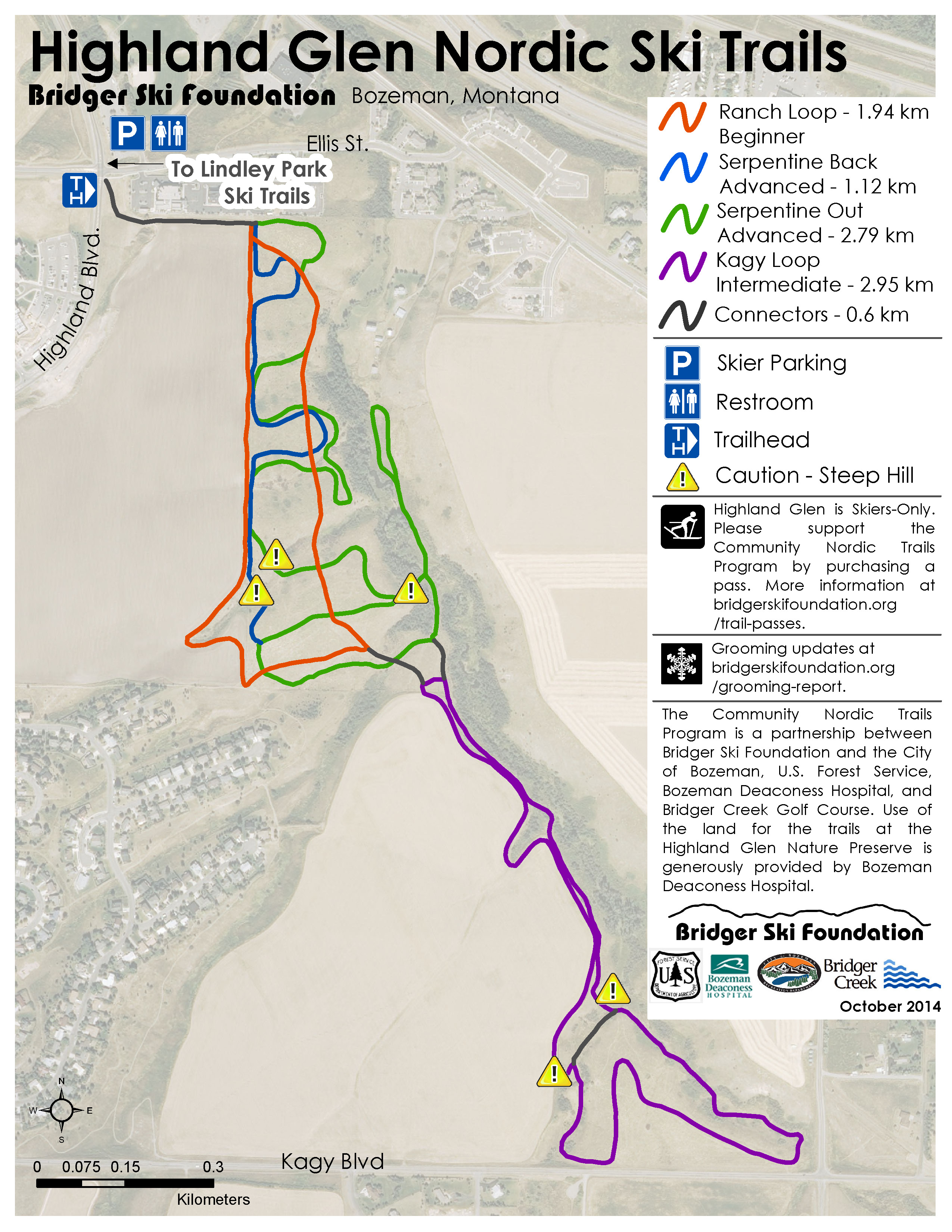 Nordic Cross-Country and Skate Skiing Trail Maps
To access both trail systems at Highland Glen/Sunset Hills, and Lindley Park Nordic Ski Trails, just NE of Bozeman Deaconess Hospital, park at the Ellis Street Softball Complex, at  the corner of Highland Boulevard and Ellis Street. (intersection map) (no dogs)
Bridger Creek Golf Course Cross-Country Ski Trails, SE of Bozeman, is flat with one portion of uphill climbing if you choose (map) (no dogs).
Bozeman Creek/Sourdough Canyon: Mostly uphill from the start and therefore downhill when returning, the Bozeman Creek/Sourdough Canyon trails are ~9 miles south of Bozeman, offering long, 20+ miles of skiing and connecting to the Hyalite ski trails. (intersection map)

Bozeman Creek Sourdough Canyon Ski Map – Julie Carson

Hyalite Lake/Canyon Cross-Country Trails, groomed by both the Bridger Ski Foundation (10%) and the United States Forest Service (90%), are ensconced in the Gallatin Mountains and offer a significant cross-country trail system, which connects with the Sourdough Canyon-Bozeman Creek trail system. (intersection map)

Sacajawea Middle School cross-country pilot program offers track setting and grooming for skate and classic skiers when school is NOT in session.